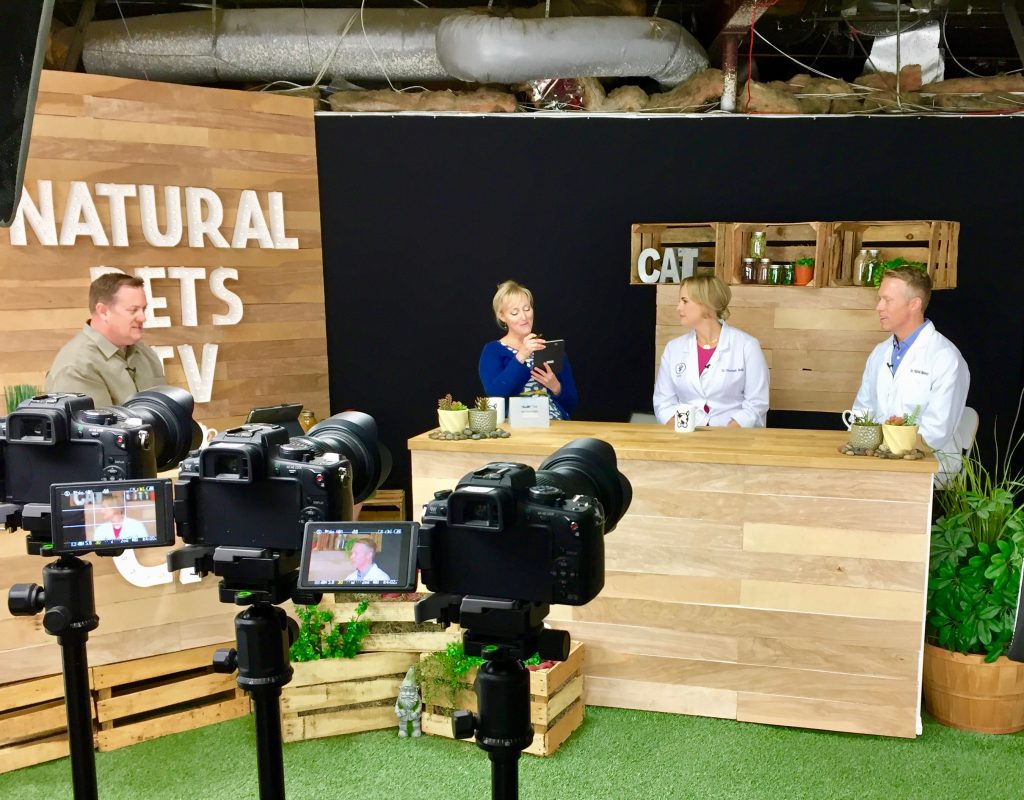 Partnering with Pet World Insider helps to spread my message of holistic pet health to dog and cat owners wherever they may reside.
Natural Pets TV is a new series of YouTube videos from Pet World Insider dedicated to promoting of the health of our canine and feline companions. In episode six of Natural Pets TV: Cat Edition, Pet World Insider's Robert Semrow, Natura Petz Organics' Heidi Nevala, and NoBowl Feeding System's Dr. Liz Bales (my fellow Penn Vet alum), and I takle skin problems affecting our feline friends.
As the skin is the body's largest organ it can be affected by many factors both external and internal. From ectoparasites (fleas, ticks, mites, mosquitoes, etc.) to bacterial and yeast infections, seasonal and non-seasonal allergies, metabolic disease (hyperthyroidism, etc.), obesity (causing skin folds and inability to groom oneself), behavior problems, nutrition, and more, there are so many aspects of feline health we veterinarians must consider when assesing cats for dermatologic disorders.
Besides the physical examination your cat receives, your veterinarian may need to perform diagnostics like skin impression smears/scrapings, allergy testing/blood/urine/fecal testing, food elimination trials, and more.
Some cats even need to see a veterinary dermatologist to have their skin problems fully assessed and treated.
Learn more here Natural Pets TV: Cat Edition - Episode 6 - Cat Skin Problems - Why, What & How to Help
Make sure to give the video a thumbs up on YouTube and subscribe to Pet World Insider's YouTube channel to receive email notification of my contributions to the further Natural Pets TV Cat and Dog Editions.
Related Articles
Natural Pets TV Dog Edition Episode 2 Dog Dental and Mouth Care
Natural Pets TV Cat Edition Episode 2 Cat Dental & Mouth Care
Natural Pets TV Dog Edition Episode 3 Holistic Approaches to Medical Treatments
Natural Pets TV Cat Edition Episode 3 Anxiety in Cats
Pet X Talks Dr. Patrick Mahaney on Understanding the Different Approaches to Pet Medicine
Pet World Insider Interviews Veterinarian Patrick Mahaney for #WeLuvPets
Dr. Patrick Mahaney
Please leave your constructive perspective in the below Comments section and communicate with me and follow my adventures in veterinary medicine and life via Instagram (
@PatrickMahaney
), Twitter (
@PatrickMahaney
), and Facebook (
Patrick Mahaney: Veterinarian Acupuncture Pain Management for Your Pets
).
Copyright of this article (2017) is owned by Dr. Patrick Mahaney, Veterinarian, Certified Veterinary Acupuncturist, and Certified Veterinary Journalist. Republishing any portion of this article must first be authorized by Dr. Patrick Mahaney. Requests for republishing must be approved by Dr. Patrick Mahaney and received in written format.