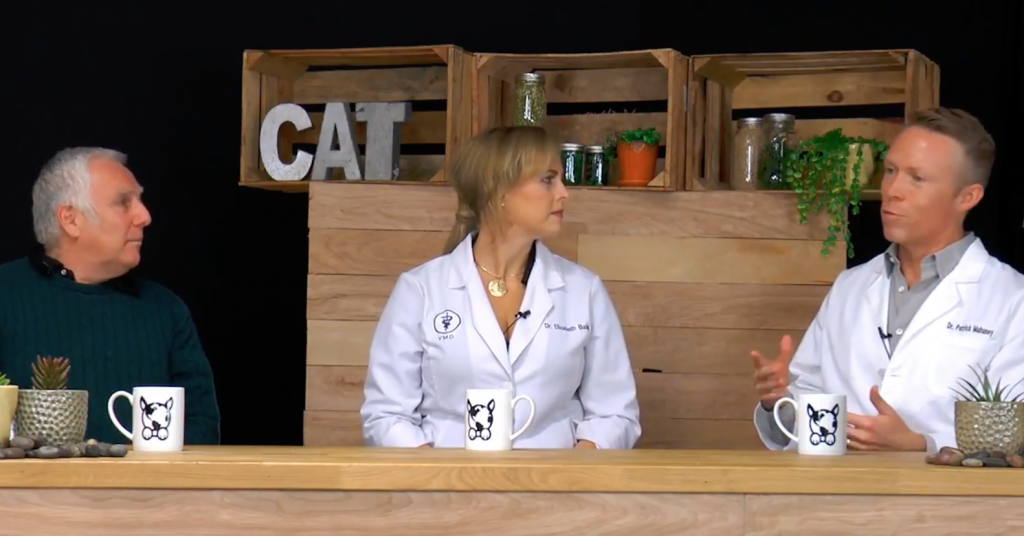 Drs. Ken Tudor, Liz Bales, and Patrick Mahaney (L to R) cover cat obesity for Natural Pets TV
As a result of humans' domestication of cats we're providing them with caloric resources in excess of needs. The majority of cats that live primarily indoor lives ultimately pack on the pounds simply because their owners dispense larger volumes of food than their metabolic rates require considering their reduced-activity lifestyle and altered sex hormone levels (resulting from being neutered or spayed).
Obesity is a crisis affecting greater than 50% of pets in this country.
The Association for Pet Obesity Prevention (APOP)
an estimated 41.9 million dogs and 50.5 million cats are overweight or obese and suffer from a variety many potentially irreversible health problems, including diabetes, heart disease, high blood pressure, arthritis, constipation, urinary tract disease, and more.
Keeping your feline friend slim on a lifelong basis is my top recommendation and calorie restriction is the best means of doing so.
Make sure to give the video a thumbs up on YouTube and subscribe to Pet World Insider's YouTube channel to receive email notification of my contributions to the further Natural Pets TV Cat and Dog Editions.
Related Articles
Dr. Patrick Mahaney
Please leave your constructive perspective in the below Comments section and communicate with me and follow my adventures in veterinary medicine and life via Instagram (
@PatrickMahaney
), Twitter (
@PatrickMahaney
), and Facebook (
Patrick Mahaney: Veterinarian Acupuncture Pain Management for Your Pets
).
Copyright of this article (2017) is owned by Dr. Patrick Mahaney, Veterinarian, Certified Veterinary Acupuncturist, and Certified Veterinary Journalist. Republishing any portion of this article must first be authorized by Dr. Patrick Mahaney. Requests for republishing must be approved by Dr. Patrick Mahaney and received in written format.