It is always hard to let a beloved pet go. The decision to do so is always made with the utmost respect to a pet's quality of life and we, as caretakers for our furry friends, can make that humane decision in their best interest.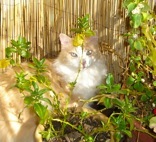 Recently, Cat's time to leave us came and went. Here is a fond recollection of Cat's life from his human companion.
Cat was my third cat who lived on the roof of a house I was renting. He befriended my other two cats, Mango and Diego, through the glass windows which faced a courtyard of the house. He slowly made his way from the roof into the house and into our hearts. Once he was in he never really wanted to go back outside again. He was loved by all of us and will be greatly missed.