It has been great fun and an interesting challenge to be called upon by Jackson Galaxy to lend my veterinary perspective to the Animal Planet television show My Cat From Hell.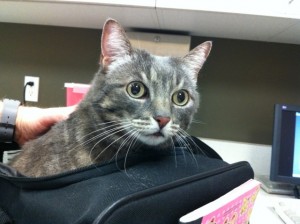 If you missed my appearance evaluating and treating season three's Molly, you can now see me during her follow up report.
Go to "Molly's Follow-Up": http://www.animalplanet.com/tv-shows/my-cat-from-hell/videos/how-do-you-like-meow-mollys-follow-up.htm Here are photos of Molly popping her head out of the carrier and getting needle/laser acupuncture treatment when during her consultation with me at Veterinary Cancer Group.
Thank you for reading this article. Your questions and comments are completely welcome (I'll respond). Please feel free to communicate with me through Twitter (@PatrickMahaney) and follow my adventures in veterinary medicine by liking Patrick Mahaney: Veterinarian Acupuncture Pain Management for Your Pets on Facebook. Copyright of this article (2013) is owned by Dr Patrick Mahaney, Veterinarian and Certified Veterinary Acupuncturist. Republishing any portion of this article must first be authorized by Dr Patrick Mahaney. Requests for republishing must be approved by Dr Patrick Mahaney and received in written format.