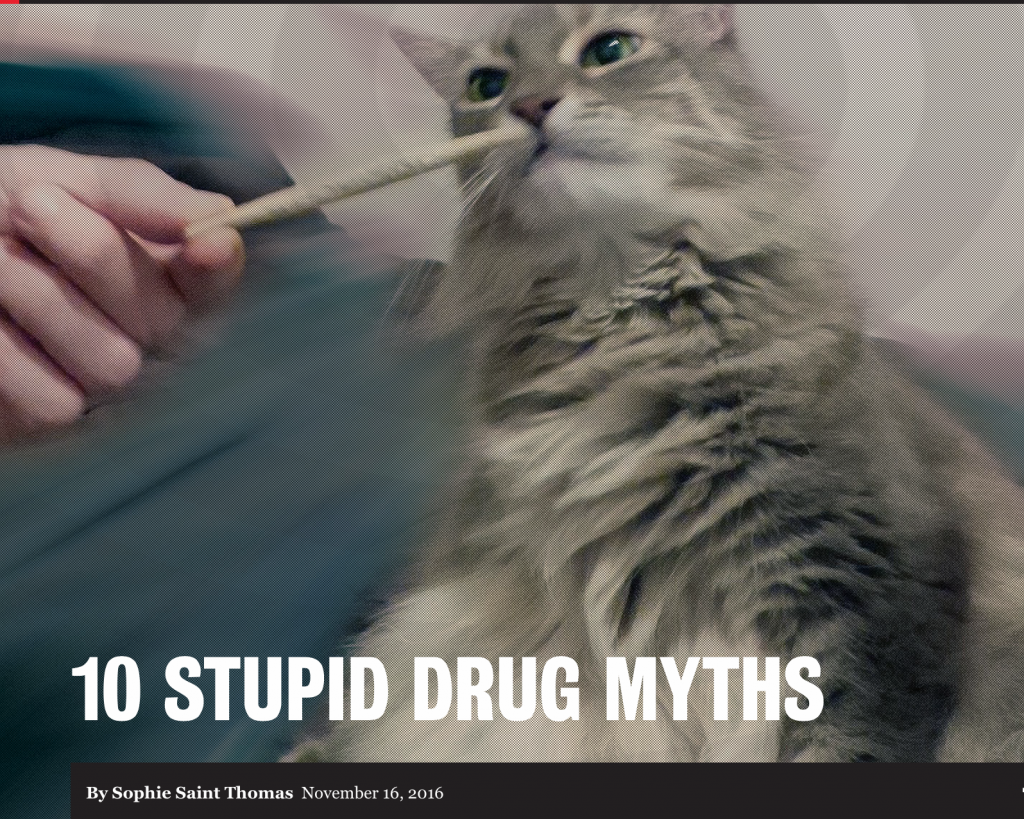 Having been practicing veterinary medicine since 1999 and worked in emergency practice Southern California I've treated my fair share of canine and feline marijuana toxicity cases.
Cats can be exposed to marijuana by orally consuming their owner's stash or inhaling the smoke.  Since cats groom themselves, there's "high potential" they can be exposed to marijuana if smoke ends up on their skin or coat or if they lick their paws after walking on marijuana contaminated surfaces.
Such is why I always recommend practicing responsible consumption of any prescription or recreational drug by keeping your supply out of your pet's reach and not partking in a proximity where your pet may be affected (i.e. go outside to a well-ventilated area away from your pet).
Reportedly, there's a myth that if a cat is exposed to cannabis he'll remain high forever.  All of the pets I've treated for marijuana toxicity recovered with appropriate suuportive care.  In this High Times article, I debunk this myth.  Read more by clicking here
10 Stupid Drug Myths
.
Also, look out for an upcoming article I wrote for The Honest Kitchen about the health benefits cannabis yields for pets.
Dr. Patrick Mahaney Thank you for reading this article. Your questions and comments are completely welcome. Please feel free to communicate with me through Twitter (
@PatrickMahaney
) and follow my adventures in veterinary medicine by liking
Patrick Mahaney: Veterinarian Acupuncture Pain Management for Your Pets
on Facebook. Copyright of this article (2016) is owned by Dr Patrick Mahaney, Veterinarian and Certified Veterinary Acupuncturist. Republishing any portion of this article must first be authorized by Dr Patrick Mahaney. Requests for republishing must be approved by Dr Patrick Mahaney and received in written format.