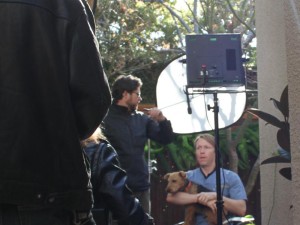 Considering Cardiff is undergoing chemotherapy treatment for lymphoma, I was psyched to be asked to contribute to a documentary being filmed by the Canine Lymphoma Education Awareness and Research (CLEAR) Foundation.
Veterinary Cancer Group (VCG) was our first filming location, as I treat cancer patients there with acupuncture, nutraceuticals (food derived substances having medicinal qualities), herbs, whole food diets, and other modalities.
Our home was the second filming location, as Phil and I spoke of our perspective on Cardiff's care from the point of view of parent (Phil and me) and practitioner (me).
CLEAR Foundation details our time filming together via their article: San Fernando Filming
I'm not yet sure when and where the documentary will available, but keep your eyes on my veterinary blog for further announcements (and sign up for convenient email delivery on www.PatrickMahaney.com ).
Thank you for reading this article.  Your questions and comments are completely welcome (I'll respond).
Copyright of this article (2014) is owned by Dr Patrick Mahaney, Veterinarian and Certified Veterinary Acupuncturist. Republishing any portion of this article must first be authorized by Dr Patrick Mahaney. Requests for republishing must be approved by Dr Patrick Mahaney and received in written format