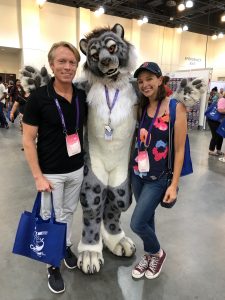 Dr. Patrick Mahaney and Nicole Ellis CPDT-KA attend CatConLA 2019
It's time again for CatConLA. 2019 marks the third conference I've attended, going back to the inaugural event in 2015, and it's always an experience for in-person learning of the latest and greatest products and experiences of the feline kind.
What is CatConLA?
"The world's original and biggest cat-centric pop culture event, CatCon™, celebrates its 5th annual convention with an unprecedented, one of a kind multi-sensory cat-stravaganza exhibition, PURRADISE CITY.
CatCon features 200 exhibitors, immersive experiences, Insta-meowments (celebricat meet-ups, photo booths, kitty cosplay), lectures (from DIY to pet health and wellness), one of the biggest adoption lounges ever and appearances by human and kitty celebrities."
CatConLA is the brainchild of journalist and producer Susan Michals (who I had the opportunity to sit down with at CatConLA 2015). Michals also created 2014's Cat Art Show LA which featured the works of many prominent artists, like Los Angeles' own Shepard Fairey.
Notably, CatConLA has been deemed one of USA Today Reader's Ten Best Emerging Festivals of 2019. This year, CatConLA saw over 16,000 cat enthusiasts converge on the Pasadena Convention Center for the two-day convention.
How Does CatCon Benefit Our Feline Friends?
Besides giving greater exposure to all things cat, CatCon benefits feline health by supporting organizations that promote animal welfare, including Kitten Rescue, TinyKittens, Odd Cat Sanctuary, Milo's Sanctuary, and Red Rover. Meet and greets with celebrity cats (and/or people) require ticket purchase and 50% of ticket sales and $1 of every ticket sold goes to help animals.
Over 200 kittens were adopted through the efforts of Best Friends Animal Society.
What are My Highlights of CatCon2019?
Every year there are novel and interesting draws for me to CatCon. This year's general highlights include:
Angela Kinsey of "The Office" perusing Purradise City and playing with Nala Cat (who has over 4 million social media followers)
Macaulay Culkin, Brenda Song, and Kat Dennings recording Culkin's Bunny Ears podcast while checking out the cat adoption center.
Seth Green and wife Clare Grant doing some retail therapy and hanging out with The Dark Lord and other celebrity cats.
My personal highlights for CatConLA 2019 include:
Attending Dr. Becker's Keynote Speech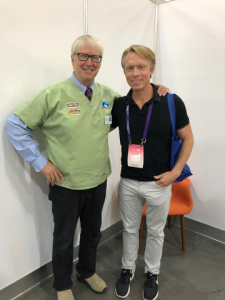 As "America's Veterinarian," Dr. Marty Becker is one of the best-known representatives of my professional community and a prominent educator and author. Dr. Becker gave the keynote speech where he stressed the importance of the human-animal bond along with striving to make our pets' life experiences as fear-free as possible.
I've participated in Dr. Becker's Fear Free initiatives and met him at the American Humane Association Hero Dog Awards, but at CatCon LA 2019 I had the opportunity to spend more time with him at the Weruva meet and greet. Amusingly, after putting his hand on my shoulder for our photo of, Dr. Becker commented "your so solid" to which I replied, "thank you, I make the time to exercise every day." Such is true, as being physically fit helps to keep me mentally sound so I can better serve my clients and patients.
Vendor Hall Products and Services
CatConLA always provides feline enthusiasts the chance to peruse the vendor hall in search of interesting products that can entertain and potentially improve the health of our cat companions, including Sleepypod.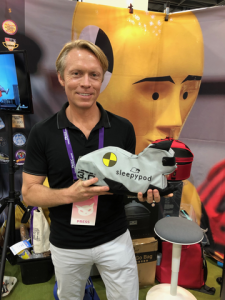 I personally got to experience the weight of the dog-shaped crash test dummies that are used as part of Sleepypod car-crash safety testing.
The thought of having a cat (or dog) weighing as much as this device slamming into the back of my head because it was not appropriately restrained or was restrained in a harness or other container providing insufficient confinement was more than I'd like to deal with while driving around the routes of my Los Angeles-area territory going to my house calls.
Sleepypod videos that show the device being caught by the ClickIt harness during a crash test are even more compelling than the thought of such a potential tragedy. Fortunately, Sleepypod ClickIt and Sport harnesses and carriers have passed rigorous Centers for Pet Safety testing and achieved 5-star ratings.
Sleepypod carriers are ideal to provide pet-safe transport around town or during airline travel. The Sleepypod Mobile Pet bed is a favorite of The Dark Lord and was prominently seen in this UK Daily Mail article Macaulay Culkin gets upstaged by feline Instagram sensation The Dark Lord at CatCon.
The Assisi Loop Lounge Air is a favorite in my veterinary practice due to the therapeutic benefits provided by the targeted Pulsed Electromagnetic Field (tPEMF) therapy. Learn more via this YouTube video Dr. Patrick Mahaney Presents Why I Recommend the Sleepypod Assisi Loop Lounge Air for My Patients
Treatibles.
There are many health benefits that CBD (Cannabidiol) can have for our feline companions, including reduced pain/anxiety/reduced pain and improved appetite and overall disposition/ability to rest and sleep, and others.
As cats can often be challenging when it comes to travel to the veterinary hospital or other locations having a product on board like CBD can help smooth out the transportation process. Such is why I was enthused to see Treatibles' many offerings of products that making dosing your cat relatively simple.
Custom Catios
I am a believer in cats spending time outdoors under controlled circumstances. Indoor-outdoor cats tend to be slimmer and less-prone to self-mutilation and other destructive behaviors that arise from the seeming boredom of living one's life exclusively indoors.
Of course, there are health and safety risks to spending time outdoors, which is why I am a big fan of catios. A catio is a space that creates confinement for your cat while giving them the experience of being outdoors.
I had the fortune of meeting Alan Breslauer of Custom Catios which conveniently services all of the areas of Los Angeles where I have clients. Breslauer's design aesthetic is quite impressive and I look forward to seeing some of his work at my clients' homes in the future.
Fidobiotics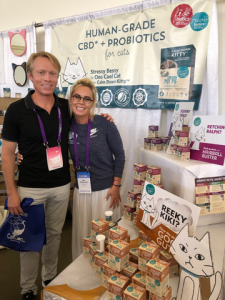 A significant portion of the immune system and whole body health stems from the normal function of the digestive tract. When dysbiosis (bacterial imbalance) occurs, your cat could manifest a variety of clinical signs, including vomit, stool changes, decreased appetite, poor skin and hair quality, lethargy, behavior changes, and others.
Although the name sounds as though it is exclusively geared to serve our canine companions, Fidobiotics has multiple options for your feline friend in their Meowbiotics line. I love the potential for Hairball Buster to help hairballs move from the stomach through the small and large intestines and out of the body into the litter box in the feces instead of being puked upon my clients' pillows, carpets, and other places where finding a hairball is generally undesirable.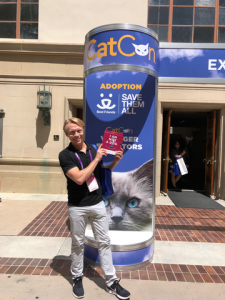 A bonus for the day was running into my fellow Penn veterinarian and entrepreneur, Liz Bales, who has created the Doc & Phoebe, Inc. Indoor Hunting Feeder. As portion control is such a problem for most cats and over 60% of cats living in the US are overweight or obese (according to the Association for Pet Obesity Prevention), the Indoor Hunting Feeder activates a cat's urge to hunt and promotes behavioral stimulation while curbing consumption of calories from food and treats.
Well, that wraps up my report for CatCon LA 2019. I look forward to all the exciting feline happenings coming at CatCon LA 2020.
Please feel free to contribute your perspective in the Comments section.
Dr. Patrick Mahaney