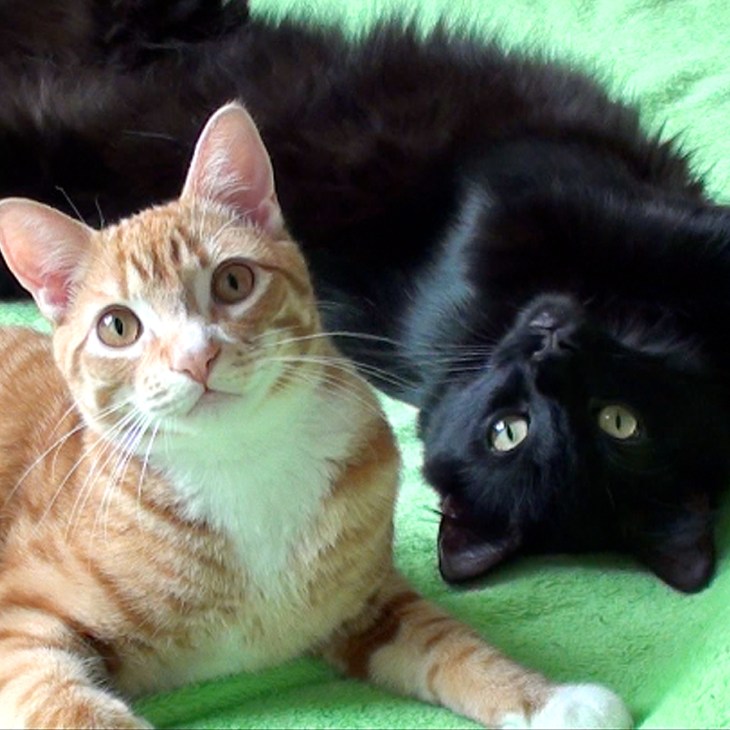 Photo credit coleandmarmalade.com In case you missed it, the 3rd annual
CatCon LA
recently occurred in Pasadena, CA. This year's event brought together a variety of people all having the shared interest in the love of all things feline along with a celebrity cats (Lil' Bub, Pudge, etc.) and humans (Julie Newmar, Jackson Galaxy, Ian Somerhalder, etc.) for a weekend filled with motivational talks, intriguing films, novel products, networking and selfie opportunities, and more. There were so many sights and sounds to take in over the weekend, but my personal highlights included catching up with my pals Dr. Yukiko Kuwahara of Street Pets and Carole King of
MeatMePetFood
and having the opportunity to interview Chris Poole, the human attached to the notorious feline duo
Cole and Marmalade
. I was intrigued to get to know more about Cole and Marmalade, since Marmalade has quite the intriguing story of overcoming and living with life-threatening disease. Marmalade is a cat having
Feline Immunodeficiency Virus
(FIV), which means he is infected with a virus that suppresses his immune system and can cause an AIDS-like syndrome (saying Marmalade has "feline AIDS" is not appropriate terminology). As a result of being immunosuppressed, FIV positive cats are prone to developing a variety other ailments, including cancer, which Marmalade also has overcome. Let's get on with the interview.
1. How is Marmalade's health in the face of his FIV and cancer diagnoses?
Marmalade is reportedly "doing great and having regular checkups." He gets three to four blood draws a year to assess his organ-system function and regular abdominal ultrasounds to look for signs of cancer recurrence. In terms of being aware of his feline friend's illness, Poole "did not know Marmalade was FIV positive when he was first adopted." Marmalade had history of testing negative for FIV, so Poole "thought Marmalade was a healthy cat." How Marmalade ended up becoming infected with FIV is unknown. The clinical signs Marmalade was sick were not immediately evident, although Poole states "he's always been a puker." In attempt to remedy the issue Poole smartly raised the level of Marmalade's food bowl and fed smaller volumes at each meal. When Poole, his wife, and Marmalade moved to California from Florida Marmalade started having more frequent vomiting, so he had an examination with a veterinarian and part of his diagnostic workup included blood testing which revealed the positive FIV result.
2. ColeandMarmalade.com indicates Marmalade had a tumor removed. When was the tumor diagnosed, where was the tumor located, and what was the biopsy result?
Marmalade's cancer was diagnosed in 2014. As a result of his FIV infection Marmalade came down with lymphoma, a type of white blood cell cancer, early on in life. FIV negative cats tend to develop lymphoma later in life. Marmalade's lymphoma reportedly manifested as a tumor affecting his small intestine and preventing his digestive tract from properly moving fluid and food from the stomach to the large intestine (colon). This is a comparable course of illness to that which my dog Cardiff endured (see
How a Vet Diagnoses and Treats Cancer in His Own Dog
and a more unusual presentation than the visible and palpable swollen external lymph nodes which affect most pets having lymphoma. Poole credits "moving to CA for saving Marmalade's life" as Poole was job hunting, around the house more, and better able to notice that Marmalade was vomiting with increased frequency. After his initial veterinary assessment, Marmalade had further diagnostics, surgery, and chemotherapy treatment at
Veterinary Specialty & Emergency Hospital San Diego
(VSHSD). Marmalade also pursued a holistic complement to Marmalade's care by working with Holistic veterinarian,
Dr. Carmine Bausone
, of VCA Acacia Animal Hospital and Pet Resort Center, who prescribed:
fish oil-based omega fatty acids- omega fatty acids have a natural anti-inflammatory effect and help prevent muscle wasting associated with cancer and other ailments
L-Lysine- an amino acid that has antiviral properties to suppress replication of viruses and therefore may be of help to cats having FIV, feline herpes virus (FHV-1), etc.
Mushroom powder- various mushrooms, including Maitake, Shiitake, and others, have immune system supportive effects
Astragalus root powder- a plant extract having immune system supportive effects
To help pet owners be better informed about the potential for their companion felines to develop life-altering ailments like lymphoma, Poole created the YouTube video
Cancer Clues in Cats #PetCancerAwarenessMonth
.
3. Does Marmalade currently receive any ongoing treatment (chemotherapy, other medications, supplements/herbs, etc.) for his ailments?
Since FIV positive cats suffer from chronic immunosuppression, periodontal disease is common related problem. To minimize Marmalade's potential to have gingivitis (gum inflammation) and bacterial infection that can be harmful to internal organs, Poole started "brushing Marmalade's teeth daily to every other day with a baby toothbrush" around two years ago, Since gingivitis is a painful condition, Poole smartly uses a soft-bristle toothbrush (which is the recommendation I give to my clients, as stiff-bristle brushes can further irritate gums). In addition to brushing, Poole also applies dental gels every other day. To educate owners about the importance of feline periodontal care, Poole created the YouTube video
How To Brush Your Cat's Teeth
. Now that Poole has moved to IL, Marmalade is seen by a local veterinarian for routine abdominal ultrasounds and blood testing and also works with an areaveterinary oncologist but no longer undergoes chemotherapy treatments (which completed in 2015). Marmalade currently takes fish oil and L-Lysine (crushed human product), but no other medications or supplements. Poole reports that Marmalade "has lived beyond his life expectancy" considering his FIV and lymphoma diagnoses. "All his hair (on his abdomen, which was clipped for his surgery and abdominal ultrasounds) has grown back. You pet his belly and he reacts like nothing happened." FIV is a disease that can transmit among cats in the household with the primary means being through bite wounds. Fortunately for Cole, he and Marmalade get along well and there have been no concerns for Cole becoming infected up to this point. Cole gets regular physical examinations with a veterinarian with the awareness that he lives with an FIV positive cat.
4. What is your role with Big Cat Rescue?
Poole worked with
Big Cat Rescue
in Tampa, FL as a videographer and social media manager for seven years. Big Cat Rescue aims to educate society about large cat caretaking and legal issues. He points out that there are "believed to be 10,000 tigers living among households in the U.S." and makes an example of why such should not be the case based on the
Zanesville Zoo Animal Massacre
where a large-cat hobbyist killed himself and released from captivity his bears, lions,monkeys, mountain lions, tigers,and wolves, all of which ended up being killed to prevent a public safety crisis. Poole has some interesting stories about inappropriately-kept big cats. He speaks of a "liger (lion/tiger hybrid) found living in a backyard in Mississippi" and a Tennessee drug dealer who kepta lion in the basement tosupply. That lion, a female named Nikita, now lives at Big Cat Rescue. He indicates that it's "legal to own big cats in one state and illegal others," but that does not stop determined individuals from doing so. Reportedly, it's legal in some states to keep cubs (juvenile large cats) until their grow to a certain size. This leads to "cub exploitation" where young cubs that have outgrown size restrictions end up going to rescue organizations. Cole aims to "change the (state) laws so there's no more cats to rescue" by supporting the
Big Cat Public Safety Act HR1818
, "a federal bill that would end the private possession of big cats as pets, end cub petting, and limit exhibitors to those who do not repeatedly violate the law. It bans private ownership and breeding of big cats with limited exemptions." Needless to say, Cole and Marmalade aren't regular visitors to Big Cat Rescue. Yet, Cole actually lived there at one point as he was found at a nearby property. Reportedly, Cole "had a black leopard as neighbor" that he could see just by looking out the window.
5. Besides social media and YouTube, where else can we see Cole & Marmalade? What's next for you and your feline friends?
Cole and Marmalade don't appear live at events in part due to the stressors of travel and concerns for Marmalade's health. Yet, their likenesses have made appearance on national television.
Cole and Marmalade Shop page
has some hysterical images and slogans, including "You're Freaking Meowt" which was featured on Ellen, MTV, and other media outlets. New videos go on-line every week on
Cole and Marmalade YouTube
. Poole will soon be going Africa to help at big cat rescues. Part of his mission to bring awareness to efforts to prevent African organizations from calling themselves sanctuaries when actually simply breeding large cats for other purposes (sales, etc.). There also is a line of
freeze-dried, all-natural chicken, minnow, rabbit, and tuna cat treats
with proceeds benefitting Big Cat Rescue. Poole deems this as a manner of "little cats helping big cats." It was a pleasure spending time with Poole for this interview and learning more about Cole and Marmalade. I look forward to keeping up with their latest happenings in our collective futures and hope Marmalade remains in good health.
Related Articles
Attending CatCon 2017 in Pasadena, CA and catching up with my pals Dr. Yukiko Kuwahara of Street Petz and Carole King of Meat Me Pet Food
Dr. Patrick Mahaney
Please leave your constructive perspective in the below Comments section and communicate with me and follow my adventures in veterinary medicine and life via Instagram (
@PatrickMahaney
), Twitter (
@PatrickMahaney
), and Facebook (
Patrick Mahaney: Veterinarian Acupuncture Pain Management for Your Pets
).
Copyright of this article (2017) is owned by Dr. Patrick Mahaney, Veterinarian, Certified Veterinary Acupuncturist, and Certified Veterinary Journalist. Republishing any portion of this article must first be authorized by Dr. Patrick Mahaney. Requests for republishing must be approved by Dr. Patrick Mahaney and received in written format.