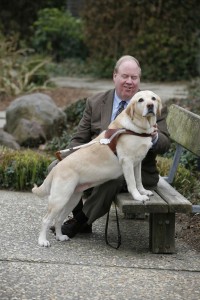 This article appeared on petMD as part of Dr Mahaney's The Daily Vet series. Photo credit: Michael Hingson Group
Veterans Day traditionally provides an opportunity to show respect to the men and women who dedicate themselves to serving our shared country.
The New Oxford American Dictionary defines a veteran as "a person who has had long experience in a particular field." I feel the definition of veteran shouldn't apply exclusively to humans. We can also use the term in reference to the service animals that are providing an integral role in people's daily lives.
This Veterans Day, along with recognizing our human war veterans, let's honor the canine, equine, and other species (Air Force avians?) that guide the blind, lift the spirits of hospitalized patients, perform search and rescue in times of disaster, and accompany military professionals on government missions.
Dogs are typically the primary species having such responsibilities. Although, I have witnessed more unusual emotional support animals, including a horse that sets hoof in nursing homes as part of the Actors and Others for Animals pet assisted therapy team (through which my dog, Cardiff, occasionally "works").
Recently, I got up close and personal with some highly acclaimed service dogs while manning the red carpet for TeddyHilton.com (gossip guru Perez Hilton's pet-centric website) at the inaugural American Humane Association Hero Dog Awards. This glamorous night (which I term the "AHAHDAs" \aaa-haa-daas\) gathered the nation's top eight canine contenders to the Beverly Hilton (also host to the Golden Globes) to showcase their remarkable merits in improving human livelihood.
Roselle, a yellow Labrador Retriever, was posthumously awarded The American Hero Dog of 2011 top prize. Roselle was a true 9/11 hero, leading her blind handler, Michael Hingson, down the Twin Tower's stairs to safety after the hijacked planes struck.
Other notable American Hero Dog contenders I met include military working dog, Bino; San Diego's Surf Dog Ricochet; and Sage, from The Sage Foundation for Dogs Who Serve.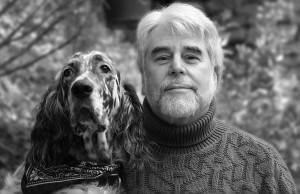 To further honor canine heroes, I'm personally commending another four legged companion who helped save his owner's life: U.S. News & World Report recently published Mysteries of Science: Amazing Animals, which showcased my canine patient, Falstaff, in Furry Friends to the Rescue. A full page picture of my client, Richard Schulenberg and his English Setter, Falstaff, accompanies Schulenberg's recollection of Falstaff's vociferous bark for help when Schulenberg suffered a heart attack. The strong behavioral connection shared by Schulenberg and Falstaff facilitated Falstaff's awareness of his owner's health crisis. If this relationship did not exist, Schulenberg may not have received lifesaving diagnostics and treatment.
Besides the aforementioned hero dogs and Falstaff, let's also recognize another type of veteran in animals having faced the life altering and often ongoing challenge of disease.
Working as a veterinarian permits me to diagnose and treat pets with illnesses that range from mild to severe. Pending owner awareness, early detection through diagnostics, appropriate treatment, financial backing, and other intangible factors, my patients either recover or exit our shared world.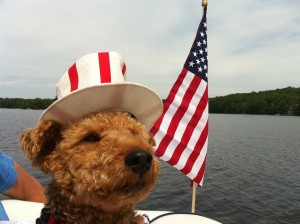 My personal pet, Cardiff, has weathered the storm of Immune Mediated Hemolytic Anemia (IMHA), an often fatal immune system abnormality. Cardiff has overcome IMHA three times in his six years of life and is a true veteran of the treatment process, for which he is highly cooperative.
Cardiff's combination treatment includes medications (immunosuppressive drugs, blood transfusions, etc.), nutraceuticals, Chinese herbs, Chinese medicine food energy, avoidance of immunostimulants (vaccinations, insect invenomation, etc.), and reduction of stress and chronic inflammation/infection (arthritis, oral cavity bacteria, etc.). By integrating western (conventional) and traditional Chinese veterinary medical perspectives, Cardiff currently exudes the utmost appearance of health and has maintained the longest disease free interval.
Fortunately, Cardiff has been clinically normal for two years. Please knock on the proverbial wood for the sake of his ongoing health and my sanity.
Cardiff, and other disease survivors, should also be recognized as veterans for their "long experience in a particular field." They have fought the war on illness and their stories can provide valuable lessons to other pets undergoing similar processes. Public education, emotional purging, and sharing a dog's adventures in life are my primary reasons for creating Cardiff's Blog. Feel free to contribute your pet's tale of overcoming adversity (contact patrick@patrickmahaney.com), as Cardiff loves to host both canine and feline guest bloggers.
With veterans taking on such variety in form, we must recognize their omnipresence and continually pay respect on a more frequent basis than just one officially recognized holiday.
Thank you for reading my article. To receive my next article via email, follow this link.
Please feel free to communicate with me through Twitter (@PatrickMahaney) and follow my adventures in veterinary medicine by friending Patrick Mahaney: Veterinarian Acupuncture Pain Management for Your Pets on Facebook.
Copyright of this article (2011) is owned by Dr. Patrick Mahaney, Veterinarian and Certified Veterinary Acupuncturist. Republishing any portion of this article must first be authorized by Dr. Patrick Mahaney. Requests for republishing must be approved by Dr. Patrick Mahaney and received in written format.