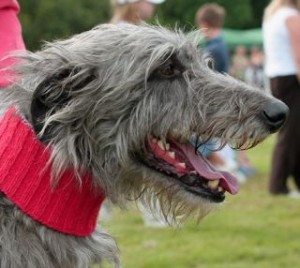 Congratulations to the
Scottish Deerhound
, the 2011
Westminster Kennel Club
Dog Show Best in Show. She is formally know by GCH Foxcliffe Hickory Wind, but she goes by Hickory as a pet name. Seven groups competed for the coveted Best in Show title. Besides the Scottish Deerhound, representing the hounds, other winning group competitors (listed from 1st to 4th) include:
Herding
Bearded Collie- GCH Tolkien Raintree Mister Baggins Belgian Tervuren- GCH Sky Acres Spy Plane Border Collie- GCH Bon-Clyde's Take One Pembroke Welsh Corgi- GCH Segni At Coventry
Hound
Scottish Deerhound- GCH Foxcliffe Hickory Wind Beagle (15")- GCH Torquay Midnight Confession Norwegian Elkhound- GCH Vin- Melca's Voyager
 Petits Bassets Griffons Vendeen- GCH Celestiral CJ's Hearts on Fire
Sporting
Cocker Spaniel- GCH Casablanca's Thrilling Seduction Irish Setter- CH Jewelset's Up Up N Away Wirehaired Pointing Griffon- GCH Fireside's Spontaneous Combustion Irish Water Spaniel- GCH Poole's Ide Got Water RN
Non-Sporting
Chinese Shar-Pei- GCH Vaje's Miss Jayne Hathaway Bichon Frises- GCH Saks Hamelot Little Drummer Boy Lhasa Apso- GCH My Thai Ta Sen Halleluiah Keeshond- GCH KarolinaBonnyvale Meant To Be
Terrier
- Terriers are my personal favorite, as they represent my canine companion,
Cardiff
. Fox Terrier (Smooth)- GCH SlyFox Skeak's A Peek Norfolk Terrier- GCH Cracknor Cross The Ts Skye- GCH Cragsmoor Buddy Goodman West Highland White Terrier- CH Blythefell Fergus
Toy
Pekingese- GCH Palacegarden Malachy Affenpinscher- GCH Banana Joe V Tani Kazari Pug- CH Xoe's Oscar De La Hoya Papillion- CH Copella's Rising Attraction
Working
Portuguese Water Dog- GCH Aviators Luck Be A Lady Boxer- GCH Winfall Brookwood Styled Dream Kuvaszok (AKA Kuva)- GCH Szymeria's Wildwood Silver Six Pence Samoyed- CH- McMagic's Candied Ham of Pebblesrun Congratulations to all winners for all the hard work (and dieting) to make it to such a notable stage in the dog show competition world. Good luck on your next studding, whelping, or showing ventures. Make sure to follow
this link
to sign up for email delivery of my follow up Westminster articles.
Veterinarian Favorites from Westminster 2011 Flaws from Westminster 2011
Related Articles
2011 Westminster Kennel Club Dog Show Warm Up
Dr. Mahaney's Top 5 Westminster 2010 Dog Show Faves
Dr Mahaney's Top 3 Westminster 2010 Dog Show Faults
Bizarre Illness Nearly Kills 2009 Westminster Kennel Club Best in Show Winner
Copyright of this article (2011) is owned by
Dr. Patrick Mahaney
, Veterinarian and Certified Veterinary Acupuncturist. Republishing any portion of this article must first be authorized by Dr. Patrick Mahaney. Requests for republishing must be approved by Dr. Patrick Mahaney and received in written format. Follow Dr Patrick Mahaney (
@PatrickMahaney
) and Westminster Kennel Club (
@WKCDogs
) on Twitter. Photo credit: Creative Commons
me'nthedogs
and is not a photo of Hickory.