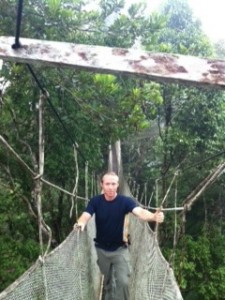 Although I feel as though I have well mastered the ability to walk (yet chewing gum and doing so can sometimes be a challenge), this basic skill was recently put to test. As I have been working hard during my vets abroad trip with
Amazon Cares
to Peru (see
Capturing Treating and Releasing the Street Dogs of Iquitos
and
Amazon Cares Shelter Dogs Receive Vet Exams and I Love Dogs Supplements
), my group of volunteers are greatly enjoying our weekend off to explore the offerings of the Amazon Jungle. Our host site,
Explorama Lodges
, is in close proximity to many great outdoor adventure options, such as an amazing climb into the trees to heights upwards of 120 feet. An intricate network of rope, metal, and wood supported my weight as I walked along the wobbly surface while doing my best to stop and take the occasional picture. As I set out on this treetop traipse at 6 AM, the elevated view of the rainforest floor was occluded by a light mist. This likely contributed to my boldness in stopping, crouching down, and snapping this photo of a delicate spider web. As we have seen many menacing spiders in the jungle, I was grateful that the web's manufacturer was likely out for a morning bug hunt.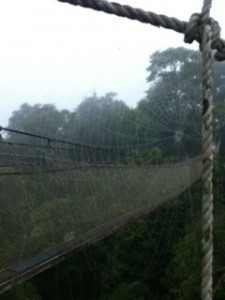 My fellow volunteer and excellent veterinary technician, June Allison, was my walking buddy and kindly lent her lovely Scottish smile to brighten the overcast morning. Thank you June!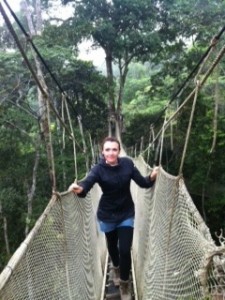 Our elevated excursion was followed by a mosquito (or "mossie" as June says) populated stroll through the jungle back to Explorama Lodges where I finally got my much needed cup of coffee. I did my best to relax and enjoy the afternoon sun while finishing reading Garth Stein's "The Art of Racing In The Rain". Thank you for reading my article. To receive my next update of my trip to Peru via email, please press the "Don't Miss a Blog Post" button on the right upper corner of this page or follow
this link
. Make sure to follow my Amazon Cares adventures by friending
Patrick Mahaney: Veterinarian Acupuncture Pain Management for Your Pets
on Facebook and
@PatrickMahaney
on Twitter. Copyright of this article (2011) is owned by
Dr. Patrick Mahaney
, Veterinarian and Certified Veterinary Acupuncturist. Republishing any portion of this article must first be authorized by Dr. Patrick Mahaney. Requests for republishing must be approved by Dr. Patrick Mahaney and received in written format.