This article originally appeared on Dr. Mahaney's The Daily Vet column as:
PetMD's Top 5 Daily Vet Articles of 2013
As a year-end review, I've decided to share what I feel are the top five petMD the Daily Vet articles of 2013. This is a compilation featuring the perspective of each of the "Daily Vets," including me. Let's proceed.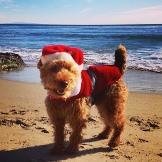 Dr. Joanne Intile shares her sharp perspective on how the veterinary profession is portrayed in the misleading ABC News 20/20 broadcast,
Is Your Veterinarian Being Honest with You?
All of the veterinarians I know definitely did not go into veterinary medicine to become rich. Additionally, all the practitioners with whom I directly correspond in my practice always strive to put first the overall health of the patient. When it comes down to it, we are in this profession to advocate for the best care for our patients. Being able to provide vet care costs us years of our own financial investment to attend college and veterinary school, and ongoing contribution of our time and practice-based resources, so we must therefore charge commensurate fees for our services.
New Cat Vaccination Guidelines You Should Know
Dr. Lorie Huston lends her feline-focused perspective to a topic that often is controversial among veterinary healthcare providers and cat owners. We veterinarians want to prevent our feline patients from becoming sick or potentially dying as a result of exposure to communicable diseases. At the same time, providing vaccinations on a judicious basis that tailors the approach to our patients specific needs is vitally important. This is the emphasis of Dr. Houston's article where the recombination is to follow the guidelines provided by the
American Association of Feline Practitioners (AAFP) 2013 Feline Vaccination Advisory Panel Report
. I especially appreciate Dr. Houston's suggestion that "even if your cat is not due for vaccination, a thorough examination by your veterinarian is still recommended at least once yearly. For more mature cats, twice yearly or even more frequent examinations may be recommended, depending on your cat's health status."
Dr. Ken Tudor sheds light on the often frustrating process owners go through in striving to provide relief for our itchy dogs and cats by doing a food-elimination trial using veterinary prescription diets. Unfortunately, DNA from an animal different from that indicated on the product label may be included in the diets and contribute to failure of the food elimination trial. I strongly agree with Dr. Tudor's suggestion to "consider a homemade diet before ruling out food as a potential allergen, since homemade diets have limited ingredients that can be carefully controlled." With such a high chance for cross contamination with protein or carbohydrate allergens that could cause a setback in your pet's food elimination trial, choosing a diet that you can be certain does not have a potentially detrimental ingredients is a smart choice for your pet.
Dr. Anna O'Brien is a large animal veterinarian practicing in my former stomping ground of Maryland, right outside of Washington, D.C. (I lived in D.C. and did emergency practice in Rockville, MD in the early 2000s). Many pet owners don't realize that there are many Complementary and Alternative Medicine (CAM) modalities available for animals. I recently shared some case examples from my practice in
Top 5 Acupuncture Success Stories
. In her article, Dr. O'Brien discuses the availability of chiropractic and acupuncture treatments for large animals. As so many of us veterinary practitioners typically only see patients of the canine and feline species, it's great to get some perspective from a compatriot practicing on larger and more biologically diverse animals. Thank you, Dr. O'Brien!
This was my contribution to petMD that sat atop of the Most Read column for some time at the end of 2013. This article is especially important to me as a practitioner, as I was unaware that a veterinary prescription shampoo I'd been recommending for my canine and feline patients actually contained a carcinogenic (cancer-causing) ingredient. I always advocate looking at the list of ingredients for any product that is consumed by our pets or applied to their skin/coat. Unfortunately, potential for toxins in shampoos and other topicals isn't always apparent to the uneducated reader. So, I'm grateful that doing research for this article made me aware of California's list of
Chemicals Known to the State to Cause Cancer or Reproductive Toxicity
. I'm now cross-referencing any product that might contact my dog's skin/coat on this list in my efforts to keep him cancer free in 2014. Unfortunately, the last month of 2013 led to the diagnosis of my own dog's lymphoma. Could it have been caused my previous use of a shampoo having a cancer-causing ingredient in providing his regular baths? Such is unclear, as the contributing factors leading to cancer are multifactorial and involve genetics, environment, lifestyle (food and water consumption, medications, etc.), and other intangible factors. Hopefully, the above articles have helpful perspectives to enhance your ability as an owner to provide the best quality of life possible to your animal companion (regardless of species). Thank you for reading this article. Your questions and comments are completely welcome (I'll respond). Please feel free to communicate with me through Twitter (
@PatrickMahaney
) and follow my adventures in veterinary medicine by liking
Patrick Mahaney: Veterinarian Acupuncture Pain Management for Your Pets
on Facebook. Copyright of this article (2014) is owned by Dr Patrick Mahaney, Veterinarian and Certified Veterinary Acupuncturist. Republishing any portion of this article must first be authorized by Dr Patrick Mahaney. Requests for republishing must be approved by Dr Patrick Mahaney and received in written format.