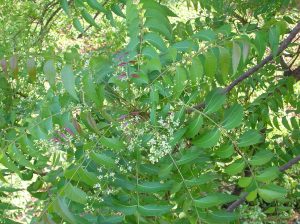 Azadirachta indica tree photo credit Flickr lalithamba.jpg Have you ever heard of Neem and it's potential to have medicinal benefits for pets?
Neem oil is extracted from the Azadirachta indica tree, which is native to tropical regions of the world. It's been touted to have many medicinal properties, including anti-bacterial, anti-fungal, anti-inflammatory, anti-parasitic, and more.
Neem oil is generally used topically (on the skin surface), but some practitioners tout its effects when taken orally.
It's best that Neem is used with patients having ailments fitting within certain parameters of appropriate use so that the safest outcome can be achieved.
Dr. Patrick Mahaney
Please leave your constructive perspective in the below Comments section and communicate with me and follow my adventures in veterinary medicine and life via Instagram (
@PatrickMahaney
), Twitter (
@PatrickMahaney
), and Facebook (
Patrick Mahaney: Veterinarian Acupuncture Pain Management for Your Pets
).
Copyright of this article (2018) is owned by Dr. Patrick Mahaney, Veterinarian, Certified Veterinary Acupuncturist and Certified Veterinary Journalist. Republishing any portion of this article must first be authorized by Dr. Patrick Mahaney. Requests for republishing must be approved by Dr. Patrick Mahaney and received in written format.