Over the past few years, I've had the pleasure of getting to know Bebe Flynn. In my first encounter with Flynn, I provided veterinary services for a stray she saved from another dog's brutal attack and subsequently adopted. She has repeatedly impressed me with her remarkable compassion and capacity to provide shelter, food, and medical services for the multitude of homeless and rescue animals she encounters on the streets of Los Angeles. After participating in her frequent acts of kindness toward companion creatures and experiencing her amiable personality, I hoped we would continue to work together on animal welfare causes. Flynn's passion for helping others led to the conception of
Miss Lilly's Trading Company
(MLTC), which focuses both on food and philanthropy. MLTC's
Savory Chocolate Chunks: Double Dark Chocolate
cookie is one of the best cookies I have tasted.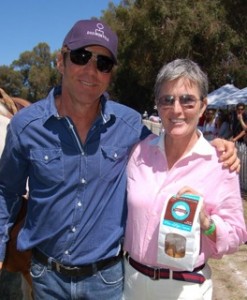 Yes, this is Dennis Quaid cozying up to Bebe! You go girl! Here is my interview with Flynn on the origins and current state of her white hot, altruistic cookie company.
How did you come up with the concept for Miss Lilly's Trading Company (MLTC)?
I am a member of the Circle of Angels at
St. Vincent Meals on Wheels
(MOW). Besides the New York MOW affiliate, St Vincent's is the largest MOW in the United States. With its 9 million dollar, privately funded annual operating budget, MOW feeds close to 5,000 seniors and home-bound people a day; a number that grows daily. A little known fact is that MOW also provides 3 schools with hot meals per day. Those meals are often the only meals some kids get. I went to MOW to see the how the kitchen operated, then delivered meals all over Los Angeles. It was through this single experience that I realized the plight of seniors and their pets. 80% of seniors face the threat of hunger. I also discovered that seniors often feed their pets before themselves or share their meals with their pets. Hence, neither the pet nor the senior are getting proper nutrition. I kept asking myself what could I do and how could I make a difference? I believe being of service to others is an important personal responsibility. I work as a commercial casting director specializing in real people casting (e.g. if you're looking for a cowboy, eskimo, fireman, or headache sufferer please see
Bebe Flynn Casting
). Besides my current volunteering with Circle of Angels, I wanted to help others by doing something completely different from my work in entertainment community. As it happens, I have always loved to bake and make a great chocolate chip cookie (if I do say so myself)! I was baking and it hit me (like a bolt of lightning) that I could sell the cookies and donate a portion of the proceeds to Meals on Wheels. I made a batch, marched into Whole Foods (Fairfax), and requested an audience with their team leader. Before I knew it, I sat at a table with several administrators who sampled the cookies, heard my story, and, voila, Miss Lilly's Trading Company was born. We have now been in business for one year.
What is the origin of the name and motto for Miss Lilly's Trading Company?
I am an avid pet rescuer and foster care provider, so I named the company after my little dog, Miss Lilly. Our motto comes from Eleanor Roosevelt: "We should constantly be reminded of what we owe in return for what we have."
To what charitable organizations doe MLTC contribute?
My mission is to give 10% of profits to St. Vincent Meals on Wheels. Currently, we are a long way off from making a profit, but we donate cookies on a weekly basis to
Cart for a Cause
and to the homeless shelters associated with St. Vincent MOW.
What are the main products MLTC makes?
Currently, MLTC makes a tasty, three variety line of cookies and beautiful gift tins for all occasions. We are about to come out with three new cookies and are developing a line of gluten-free products. Eventually, MLTC will expand into the pet market with organic dog treats and other pet foods.
What type of ingredients does MLTC use in its cookies?
MLTC uses only the finest ingredients like high-end Belgian and
TCHO
chocolate.
Does MLTC make any products for pets?
We will be developing a line of organic dog treats. I also would consider a line of organic pet food in the future.
What are the long term goals MLTC has as a company?
Like the
Paul Newman
model we will be developing a large variety of products that reflect MLTC's high standards. We intend to be on every grocery and specialty store shelf in the United States. My goal is to donate 1 million dollars to St. Vincent MOW and to branch out from there. As Miss Lilly's expands from state to state, I will seek out the appropriate organizations which will provide meals to seniors, as well as pet food and in-home vet care. As we say in Texas (I'm from Austin), "go ahead, call me crazy—but come on in, the water's just fine!"
What can I buy MLTC products?
MLTC cookies are sold at Larchmont Wine & Cheese, fifteen Whole Foods in the Los Angeles metro area (Beverly Hills, Brentwood, El Segundo, Glendale, Redondo Beach, West Hollywood, Fairfax, Arroyo and Foothill in Pasadena, Santa Monica, Sherman Oaks and Sherman Oaks West, Westwood, and Venice), and we are expanding to other stores in Southern California. Fabulous gift tins for the holidays will sold exclusively in-store at Sak's Fifth Avenue. MLTC products can also be purchased on-line at
www.misslillystradingcompany.com
Follow Miss Lilly's Trading Company on: Twitter
@MissLillys
Facebook
Miss Lilly's Trading Company
Thank you for reading my article. To receive my next article via email, please press the "Don't Miss a Blog Post" button on the right upper corner of this page. Copyright of this article (2010) is owned by
Dr. Patrick Mahaney
, Veterinarian and Certified Veterinary Acupuncturist. Republishing any portion of this article must first be authorized by Dr. Patrick Mahaney. Requests for republishing must be approved by Dr. Patrick Mahaney and received in written format.