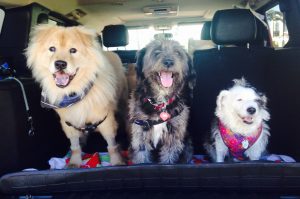 I was saddened to learn that a lovely senior canine patient who, like Cardiff, overcame lymphoma and led a high quality of life until his final weeks.
I got to know Rocky as my patient through Veterinary Cancer Group and strove to holistically complement his chemotherapy with acupuncture, supplements, herbs, whole food diet.
Here's Rocky's memorial as written by his human mom.
To ALL the  dear family, friends, and medical professionals who have loved and cared for our sweet Rocky boy...
Thank you all for your tender, honest care of our dearest Rocky the Lion Bear, for so many blessed years.  
After over 15 years of genuine love and faithful companionship, in every sense of the word, this evening, Thursday October 13th around 7:30 pm, our sweet boy passed over the rainbow bridge where we know his beautiful spirit will live on forever.  
Earlier in the day, we felt he was so relaxed and comfortable on the additional pain medication he had received at the hospital earlier in the day, that we sadly knew it was time  to make that heartbreaking decision to say goodbye.
We would never want our sweet teddy bear to suffer, feel pain, fear, or sadness any longer from this battle that ultimately caused him to lose all function of his hind legs. :(.
Rocky's sudden decline this past Tuesday had taken everyone by surprise, but alas, Rocky's body could no longer keep up with the incredibly vibrant spirit that had kept him alive all these years. The very qualities that I know endeared him to all of us. 
We believe Rocky's unwavering zest for life, truly allowed him to constantly beat all the odds he was dealt since day one. From being rescued from a "Last Chance" LA county animal shelter event after having been abandoned and neglected, to overcoming cancer for so many of his twilight years, to share such a beautiful, fulfilling life with all of us. We will always be so grateful. 
For those who don't know the story, this special guy instantly captured his mommy's heart one hot summer day at the LA adoption event in the Santa Monica park. He walked on stage to be adopted, Mom turned to look, and that was all it took. The rest will always be a beautiful, inspiring history that will never be forgotten.
Those who have spent time with Rocky, know he was the most stoic bear when it came to his health, only caring about everyone else around him, and how they were feeling. He had a true golden heart and courage of a lion. 
Apparently, classic Rocky, unbeknownst to all, had been living out these last years quietly suffering from a painful bone cancer in his spine, lung cancer, and a return case of lymphoma, as he never, ever once complained or showed he was in pain or dealing with all of this inside.  
We will always be thankful our boy was able to live out the earlier years he had with us after the initial care and chemo treatments he had received several years ago putting him into remission from his first case of lymphoma for over 3 wonderful years. He will always be the bravest, strongest pup we have ever known.
Sadly this evening, we had to make the hardest decision any mommy and daddy would have to make and realized we had to let him go comfortably with all the dignity and love, a proud, strong, special, guardian bear like Rocky truly deserved. 
While Rocky transitioned over the rainbow bridge this evening, he was quietly surrounded by his loved ones at home in his bed, listening to beautiful soothing music, while receiving licks from his furriest best friends and loads of hugs and kisses from his parents in a circle around him until the very last hours he was here with us. 
We know Rocky's loyal, ever-present spirit, bright beautiful eyes, and zest for life will live on forever in our hearts and minds. We know he will always be watching over all of us, as this was proudly his life's work. 
So, as we remember our loving boy, we are thankful to God for Rocky, and all those who helped him over the years to have the extra time with us on earth, so happy and free. 
You will be so sorely missed sweet friend. Oh, the adventures we have had sweet buddy. From climbing the canyons, to playing in the ocean and sand, to everyday just looking into our eyes, being by our side. Oh, the remarkable tales "only we could tell and share"…
So, RIP Our dear sweet Rocky Boy and Lion Bear. A true spirit guide and loving guardian always. Until we meet again loving best friend. 
In memory of all those we have lost: May God bless them, keep them, and help us all find comfort in knowing we will always be in God's loving hands. 
Love Always,
Amy & Matt Wilkens (Mommy and Daddy, Razzie, Angel, Reagan Clydesdale, and all of Rocky's family and friends who loved him so.)
Although Rocky is no longer with us he'll be remembered in perpetuity and always missed.Have you lost an animal companion who was like a four-legged family member? Feel free to share your perspective in the Comments section.
Dr. Patrick Mahaney
Thank you for reading this article. Your questions and comments are completely welcome.
Please feel free to communicate with me through Twitter (@PatrickMahaney) and follow my adventures in veterinary medicine by liking Patrick Mahaney: Veterinarian Acupuncture Pain Management for Your Pets on Facebook.
Copyright of this article (2016) is owned by Dr Patrick Mahaney, Veterinarian and Certified Veterinary Acupuncturist. Republishing any portion of this article must first be authorized by Dr Patrick Mahaney. Requests for republishing must be approved by Dr Patrick Mahaney and received in written format.