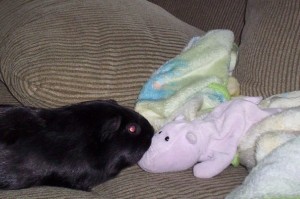 A fellow veterinarian and pet blogger,
Shawn Finch
, recently lost her beloved companion, Piggy. My condolences go out to Shawn and her family for their loss. As Shawn and I share the love of both pets and writing about pet care topics, in addition to Piggy's memorial, I wanted to share her informative blog "
Taking Care of Your Exotic Pet, For Example, Your Guinea Pig, Which is Not Really All That Exotic
". Please feel free to share Piggy's pet memorial with other pet lovers and leave your well wishes/comments for Dr. Shawn Finch. Piggy's original memorial can be found here: "
Piggy The Great
"
Our guinea pig Piggy died Monday morning. I held him on my lap and told Amanda and Abby Comforting Things I had very recently told them about Fuzzy and Wuzzy Rats, only this time it was Piggy. Joy the Puppy walked up to us sideways, wagging her tail. She kissed Abby on the arm, kissed Piggy on the head, kissed the DVD case next to Abby, kissed Abby again and settled in to be sad with us. I would take Joy the Puppy over a smart dog any day. She is one of a kind. And I would take Piggy over a smart guinea pig any day. He too was one of a kind. (Are there smart guinea pigs? Does anyone know?) He was sweet and gentle, goofy and fun. Piggy and I spent almost every morning together these past six plus years. We will miss you Piggy. You were the sweetest, cutest guinea pig I have ever known.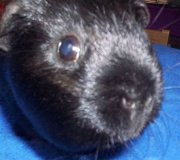 Piggy Finch May 1, 2004 - January 17, 2010
Thank you for reading my article. To receive my next article via email, please press the "Don't Miss a Blog Post" button on the right upper corner of this page or follow this link. Copyright of this article (2011) is owned by Dr. Patrick Mahaney, Veterinarian and Certified Veterinary Acupuncturist. Republishing any portion of this article must first be authorized by Dr. Patrick Mahaney. Requests for republishing must be approved by Dr. Patrick Mahaney and received in written format.