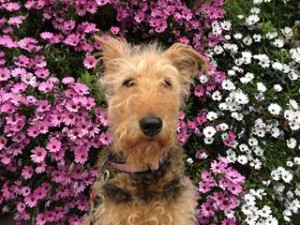 On Tuesday, May 14, 2013 at 9:55 pm, Nola (our beloved Airedale Terrier) heart-breakingly passed away from advanced chronic kidney failure just 3 days before her 9th birthday. We fought so hard to save her, but despite aggressive treatments from the best vets and hospital in L.A., it was just not enough, and we had to tearfully say goodbye to her at the hospital that evening. Her loss was devastating to me, and a hundred times worse for Holly, who raised Nola since she was just a pup. I can't even imagine how hard it was for her...I just did my best to be there for her.
It is so emotionally difficult to lose a beloved dog like Nola is because it is just unnatural. It goes completely against our ancient survival instincts to outlive anyone or anything we devote so much time, energy, and care for from its infancy...especially from something that loves you unconditionally and vice versa.
During the last week of her life, I laid next to her one afternoon and petted her gently to help her feel at ease. She looked up at me and stared straight into my eyes, and I felt something I didn't expect. She was actually telling me that it was going to be "OK" and not to be sad because her job here was done. She took care of Holly through some difficult times, and helped Holly and me through some very challenging times of our own too. But Nola somehow knew we were both finally in a very good place in our lives, and that it was time for her to move on to help someone else.
The picture of Nola you see here of her looking up at the sky was the last picture I ever took of her. It was strange at the time, as she had never done that before. She was looking straight up when nothing was above her but clear blue sky. In retrospect, I like to think she was looking up at Heaven and saying, "I'm coming...will be there soon...just need to say goodbye."
Nola had such a wonderful life. She lived (and played) in Royal Oak, the Upper West Side of Manhattan, and at the beach here in Marina Del Rey. She also visited Florida, North Carolina, and Colorado...just to name a few of the wonderful places she saw (and smelled!). She was loved by so many people...friends, family, passers-by...everyone.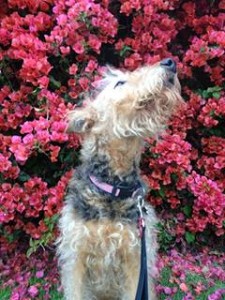 We really miss Nola. I was going to write this sooner, but it took me some time to collect my thoughts and feelings. It all makes more sense now.
On Nola's birthday, we drove 10 hours to get a new puppy...a cute little Welsh Terrier (which looks exactly like an Airedale, but is half the size). When you are "dog" people like us, a home is just so empty without a dog!
This sweet little puppy was passed up by everyone because he has an imperfect ear (his left ear is about half the size of his right ear and rounded...looks like a little bear cub's ear...so cute!). Nola was the runt of her litter too, and it just felt right to get him on Nola's birthday when no one else wanted him.
We named him Newton, and you can see his pictures here too. He is such a great little puppy (and yes, a handful!). He is settling into our place well, and is already well-traveled, having just gotten back from his first family gathering in Denver with the Sosnoski clan (where he met Shirley, Marlene, Charlotte, Ryan, Corey, Chase, Alex, Nela, Kaylene, David, Mary and Gary, Sharon and Erv, and Marc and Carly too).
I don't know where Nola's soul is right now, but I have a feeling she is already making another family happy, and is watching over us and little Newton too.
Thanks for everything Nola...we love you and miss you and will always be in our hearts.
Thank you for reading this article.  Your questions and comments are completely welcome (I'll respond).
Please feel free to communicate with me through Twitter (@PatrickMahaney) and follow my adventures in veterinary medicine by liking Patrick Mahaney: Veterinarian Acupuncture Pain Management for Your Pets on Facebook.
Copyright of this article (2013) is owned by Dr Patrick Mahaney, Veterinarian and Certified Veterinary Acupuncturist. Republishing any portion of this article must first be authorized by Dr Patrick Mahaney. Requests for republishing must be approved by Dr Patrick Mahaney and received in written format.