It is always sad to see one of my fellow canine companions pass on, especially when the deceased is one of my own kind, a Welsh Terrier. Although Vyldie and I never met, our lineage permanently connects us, so I want to share her memorial with Welsh Terrier owners all over the world. Please pass on this loving memorial, written by Vyldie's human guardian, to other pet lovers.
Thank you,
Cardiff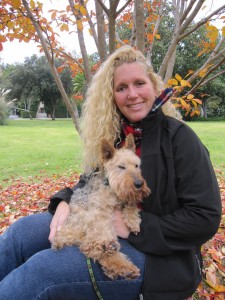 With a broken heart, I sadly report that my fur-daughter Vyldie has gone to heaven. For 15 ½ years, she was my family. She will be sorely missed and lovingly remembered.
Vyldie was a Welsh Terrier. She was a stealth hunter, often catching bluebirds on our balcony, mice in stores on 3rd street promenade, and once a lost rabbit at Holmby Park; fortunately, she never hurt the animals she caught but the delight in her eyes after a hunt was really something to see. She was so beautiful in motion; when she ran, it appeared as though her body hovered above the ground. When she was happy, she jumped with all four legs lifting at once like a bunny. Of course, the last couple of years she moved more slowly and her friends at the park fondly called her "the dog that doesn't walk" because her mama carried her on the uphill parts or all the way around if the little girl was tired.

She was an amazing girl. Vyldie volunteered at Cedar's Sinai Hospital for 13 years, with Create-A-Smile at the Veteran's Administration Hospital, the Foundation for the Junior Blind, and an Alzheimer's community for five years and in the Police Activity League (PAL) Reading Program for three years. She loved people and often chose the company of people over that of animals. She showed patience and kindness toward friends and strangers alike.
Vyldie was a smart girl. She posed for pictures and often smiled at the camera, she used her private 'park' on the balcony, and was always right when measuring the character of a human. Vyldie was a ballerina and always walked on her toes; when carried she let her legs hang with ankles crossed and toes pointed. Immediately after a haircut everyone was sure she was a girl, but when she was woolly, they assumed she was a boy; more accurately, she was a breathing teddy-bear happy to share a hug.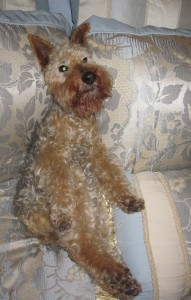 Vyldie is survived by her adoptive-mother Debra Mindlin, her adoptive-grandmother Sandy Mindlin, her adoptive-Aunt Julie Ventura, as well as extended family members and many, many friends.