Part of my job as a veterinarian involves seeing my clients through the process of saying goodbye to a beloved canine or feline companion. Recently, a sweet, senior Chihuahua named Marley crossed the rainbow bridge. I took on Marley as my patient in her later years after she was diagnosed with a life-altering illness, but I know of the impact she made throughout her life on all the people she encountered. Here's I'll turn the telling of Marley's tale over to her and to her human mother, Donna.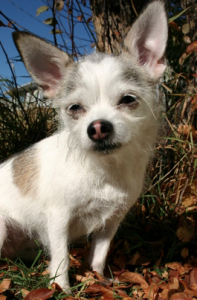 Little Marley made her way into my life in July of 2004. A calm and gentle puppy, all of about 2 lbs, she wrapped her little arms around my neck, and the deal was sealed. She become my little monkey, and clung to me through our many exciting adventures over the next 14 years. Some of which included being an official store greeter at the neighborhood holistic pet store, and a star-making move from Calgary, Canada to West Hollywood. Marley's zen-like demeanor, and ancient furry appearance gave her a yoda-like quality that turned heads and warmed hearts alike. Every Sunday Marley took pride in her job as official store greeter at the Inner Hound in Calgary, a neighborhood gem specializing in raw food and supplements, designer toys and beds for dogs. Always putting a smile on someone's face, she took her roles and responsibilities very seriously, even if that meant having to wear silly costumes or perform a cleanup in the treat aisle. She fiercely loved her shark stuffy, and her orange ball. Every night before dinner, fetch would ensue. Always looking for a snack, she had a penchant for green veggies; broccoli and green beans in particular. One could precipitously lose a finger while feeding her those favorites. With the click of the stove igniter, or opening of the fridge, the cheese drawer in particular, I can still hear her launching off the couch at warp speed, making sure to offer up her superior taste testing skills.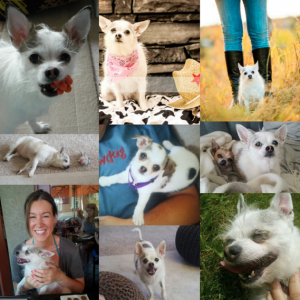 Two years ago, we welcomed a sister for Marley. It was clear she was not pleased about sharing me with Fiona. But in time they became bonded enough that impromptu snuggle sessions weren't out of the question. 6 months ago our family grew again, and little Megan entered the scene. Marley kept her cool as usual, never losing her place as pack matriarch. Weekly visits from surrogate brothers Charlie and Tucker always put extra pep in her step.
Marley was dubbed the "investigative reporter" for her uncanny ability to sniff out every inch of a room, and deem it safe, "all clear in here", before moving on to the next. Along the way, her carpet and floor cleaning skills were unmatched. She also gets an honorable mention for "loudest drinker" and "best hugger". Her hugs were legendary. She'd melt into your arms like a puddle of warm love, sometimes whispering in your ear telling you about her day. Two licks was good, and three meant terrific!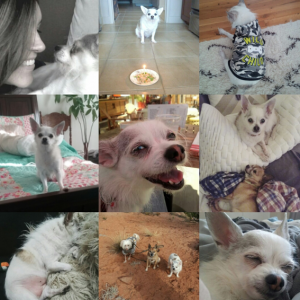 Dr Mahaney is a trusted friend and our holistic veterinarian, which meant no stressful visits to the vet office for Marley. She was lovingly examined and treated in the comfort of our home. I want to thank Dr Mahaney and Phil for their supportive care for the last precious years of Marley's life. As she aged, and coped with her disease, she never lost her "funny face" quality. In April of this year, two days before her birthday, she courageously transitioned on her own. She made that decision like the brave soul that she is. Like many times throughout her life, she went by her own terms. As I held her in my arms, I felt her love, bigger than the both of us.
In November of 2015, we visited Angel's Rest Pet Memorial Park in Kanab, Utah. Dear Marley paid her respects to the beautiful souls resting there. I can only envision she's found her way back to that sacred place.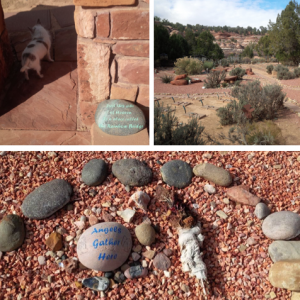 Many years ago, a good friend was absolutely terrified of dogs, but after a couple "sessions" with Marley, she overcame that fear, and now has a dog of her own. That particular gift has meant so much to me, because I always saw her as a gentle healer. She was always there for me when my anxiety reared its head, and when I needed a day (or two) alone, away from human contact, she sat by me quietly. I never needed a time out from her. She was simply love in all its forms, and even though her form has shifted, her love still envelopes us. She sends constant reminders to reassure me she's never far away. My only wish is that others will experience this kind of all encompassing love at least once in their lives, because it changes you forever.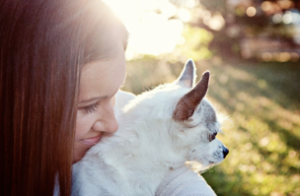 Thanks for the memories, kid!
Ever grateful to have been your Mom xx
Have you lost a pet who was near and dear to your heart? Feel free to share your perspective in the Comments section.
Dr. Patrick Mahaney
Please leave your constructive perspective in the below Comments section and communicate with me and follow my adventures in veterinary medicine and life via Instagram (
@PatrickMahaney
), Twitter (
@PatrickMahaney
), and Facebook (
Patrick Mahaney: Veterinarian Acupuncture Pain Management for Your Pets
).
Copyright of this article (2018) is owned by Dr. Patrick Mahaney, Veterinarian, Certified Veterinary Acupuncturist and Certified Veterinary Journalist. Republishing any portion of this article must first be authorized by Dr. Patrick Mahaney. Requests for republishing must be approved by Dr. Patrick Mahaney and received in written format.