Offering veterinary services on a house call basis requires me to send my clients' beloved pets into the next world when their illness is too severe and quality of life is compromised. I recently aided the exit of a sweet Doberman Pinscher, Kit, who is fondly remembered by the words of his human companions.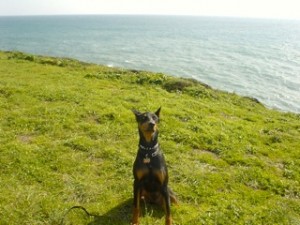 Kit was the most regal of dogs.  Affectionate, loyal, loving, playful and smart. Well mannered and highly obedient, he loved hide and seek games and being chased around. He loved running on the beach in Malibu, his morning hikes with Diane in Franklin Canyon and curling up on his favorite couch. He loved Michael - and looked forward to the garage door opening each evening.  Like his dad, he loved laying in the sun. When he lost his best friend, our mini-Doberman, four years ago, you could tell how sad he was.  He welcomed the new Doberman, Beau, into his life and was an incredible big brother.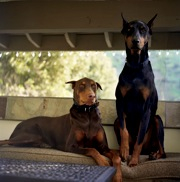 He was too young when we went.  He was a wonderful, loving best friend who is missed greatly.  In my almost 48 years, I've had many pets, but none as special as Kit.
We miss you Kit, but you will never be forgotten. Dr Patrick Mahaney