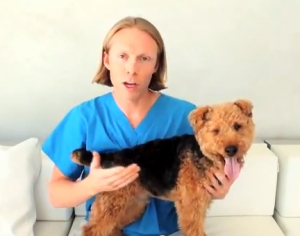 I love Memorial Day weekend, as I grew up on the East coast and this start of summer holiday is the ideal time to reflect on those we've lost while imbibing a fresh pitcher of
Pimm's Classic
. As West coast living adult, I don't quite feel the same sense excitement about summer's commencement. You see, my day to day life in Los Angeles means I get summery weather nearly year round (but for those five days of rain in January). As our warm, dry climate makes creates an increased opportunity for heat related health problems in our pets, we southern California dog owners must consistently keep our canine companion's coat in summer-ready shape. My Welsh Terrier,
Cardiff
, requires regular coat maintenance, such as brushing, trimming (or stripping), and bathing, which I do as often as necessary to keep him healthy, comfortable, and looking sharp. For those who live where the hot, summery season is just about to start, please take note of your pet's regular need for seasonal hair coat maintenance. Check out my latest
TeddyHilton.com
starring Cardiff and his new short (-er) haircut.
EXCLUSIVE: How To Groom Your Pet For The Summer
[youtube]
http://www.youtube.com/watch?v=VTw3oqStTu4[/youtube
] Please feel free to leave your comments or communicate with me through email (
patrick@patrickmahaney.com
) or Twitter (
@PatrickMahaney
). Thank you for reading my article. To receive my next veterinary posting via email, please press the "Don't Miss a Blog Post" button on the right upper corner of this page or follow
this link
. Make sure to follow my adventures in veterinary medicine by friending
Patrick Mahaney: Veterinarian Acupuncture Pain Management for Your Pets
on Facebook. Copyright of this article (2011) is owned by
Dr. Patrick Mahaney
, Veterinarian and Certified Veterinary Acupuncturist. Republishing any portion of this article must first be authorized by Dr. Patrick Mahaney. Requests for republishing must be approved by Dr. Patrick Mahaney and received in written format.