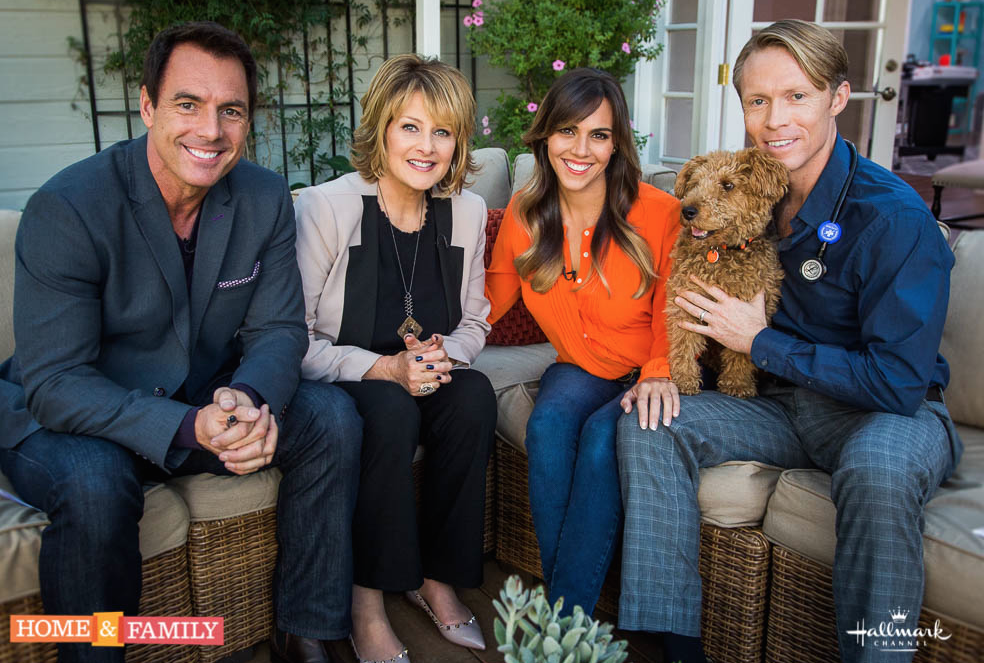 I enjoy the opportunity to share my vetrinary perspecive in a variety of media outlets. Recently, Candace Rose featured the apperance Laura Nativo and I made on Hallmark Channel's Home & Family to discuss canine cancer diagnosis, treatment and prevention on
www.CandaceRose.com
. To see the full article as it appears on Candace Rose, click here:
Watch Pet expert Laura Nativo and Holistic Veterinarian Dr. Patrick Mahaney Share Canine Cancer Prevention and Treatment Options On Hallmark's "Home & Family"
Like many of you, my pets are my family. I feed them healthier food than I feed myself, I do my best to keep them healthy, shield them from pain and in return they provide unconditional love and tons of laughter! I grew up with my two Weimaraners, Fred and Ricky. Fred suffered from debilitating seizures for most of his life. I'd sit with him while he seized, which was so horrific. I have to think that his debilitating seizures prepared me for what I would soon have to face when he was diagnosed at 11 years of age with cancer. There was no coming out of it, we lost him shortly thereafter. His son, Ricky was my baby, I still defend him and his so called brattiness seven years after his passing. I couldn't imagine my life without my dog, and when he was 12, I too lost him to cancer. Losing a family member is one of the hardest things in the world, we all have to go through it at some point in our lives. Cancer has robbed me of my grandfather, countless relatives, friends, and my two fur-kids Fred and Ricky. According to
The Veterinary Cancer Center
, "cancer accounts for nearly 50% of all disease-related pet deaths each year." Did you know that there are simple things that we can do to prevent cancer in pets, and new treatment options? This past week on Hallmark's "Home & Family", pet expert Laura Nativo and holistic veterinarian, Dr. Patrick Mahaney joined Cristina Ferrare and Mark Steines in honor of Canine Cancer Awareness month to discuss pet cancer prevention tips and shared some helpful information that we can all use, for example feeding your dog a raw or dehydrated diet and not over-vaccinating your pets can help prevent cancer. Thank you for reading this article. Your questions and comments are completely welcome (I'll respond). Please feel free to communicate with me through Twitter (
@PatrickMahaney
) and follow my adventures in veterinary medicine by liking
Patrick Mahaney: Veterinarian Acupuncture Pain Management for Your Pets on Facebook
. Copyright of this article (2014) is owned by Dr Patrick Mahaney, Veterinarian and Certified Veterinary Acupuncturist. Republishing any portion of this article must first be authorized by Dr Patrick Mahaney. Requests for republishing must be approved by Dr Patrick Mahaney and received in written format.