Considering I stayed up late to where natural (with the help of melatonin) fatigue compelled me to actually sleep, I woke up in Lima feeling quite well rested at 8 am Peruvian time without an alarm. Check out the view from my hotel that greeted me in the morning.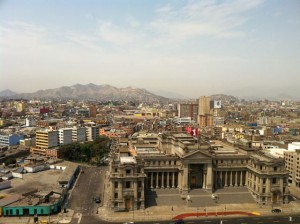 A hotel arranged car was transporting me to the airport in the early afternoon and I recognized that my quarters in Iquitos as provided by Amazon Cares would be somewhat more rustic, so I maximized my use of the Sheraton's western amenities. I worked out at the nice gym, ate a great breakfast of native (pure mango puree, tamale, etc) and less than native (scrambled eggs, bacon, etc) at the club lounge, and utilized my last reliable internet connection to publish articles (see Dr Patrick Mahaney Departs for Volunteer Trip to Peru with Amazon Cares
and How to Read Your Dog's Body by Dr Patrick Mahaney on TeddyHilton.com ) and complete my final tweets and Facebook updates.
As it was election day in Peru, there was a seemingly heightened sense of chaos on the streets for a Sunday afternoon and traffic was oppressive. Fortunately, I checked in on time and grabbed an empanada con pollo and espersso (nice mix of cultures!) to go en route to my gate.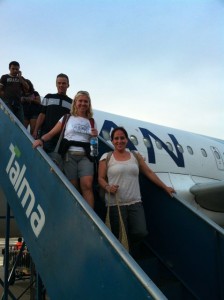 Shortly before boarding our flight, I finally met my US veterinary compatriots Dr Jessica Vogelsang (San Diego, CA) and Nikka Harvey (Knoxville, TN). We were familiar with each other through social media, but we hadn't spend any real time together before this trip.
Once we landed in Iquitos, we were greeted by a beautiful sunset and the sunny disposition of Amazon Cares president, Molly Mednikow.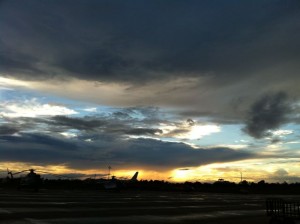 Motorized rickshaws waited to transport us from the paved luxury of the airport roads onto the muddy, puddle filled streets of suburban Iquitos. I was amazed by the number of dogs roaming the streets and appearing completely content with the symbiotic existence they shared with the Loretanos (people of Iquitos). On more than one occasion, a dog lay so close to our wheels that I feared we would be the instigators of a "hit by rickshaw" situation for which I would be called up on to treat. Fortunately, no dogs were harmed during our trip.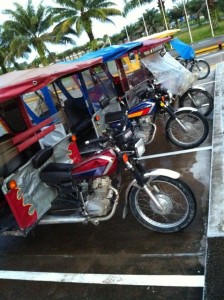 Upon getting to our jungle quarters, we met our other compatriots from Australia (June Allison) and England (Luke Marriott and Katherine Mock), settled in, ate a great home prepared meal (thank you Marlene), and got to know each other better through a festive game of Loaded Questions).

With everyone all traveled out and anticipating the rigors of our first day of spay and neuter clinics in the Nuevo Versalles neighborhood of the District of Punchana, we all turned in for the night (and I turned to writing, for which I am glad that I have no internet connection for the sake of content production).
Thank you for reading my article. To receive my next update of my trip to Peru via email, please press the "Don't Miss a Blog Post" button on the right upper corner of this page or follow this link.
Make sure to follow my Amazon Cares adventures by friending Patrick Mahaney: Veterinarian Acupuncture Pain Management for Your Pets on Facebook and @PatrickMahaney on Twitter.
Copyright of this article (2011) is owned by Dr. Patrick Mahaney, Veterinarian and Certified Veterinary Acupuncturist. Republishing any portion of this article must first be authorized by Dr. Patrick Mahaney. Requests for republishing must be approved by Dr. Patrick Mahaney and received in written format.