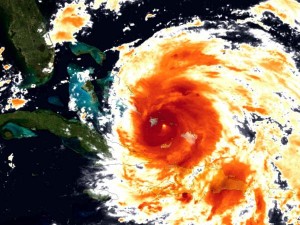 Although I live in southern California, home to natural disasters (earthquakes, wildfires, and mud slides...oh my!), I infrequently have to deal with the brutal meteorological force that is a hurricane. In the face of Hurricane Irene blowing its way up the east coast, I found myself attending
Blog Paws 2011
in Tysons Corner, VA. Having survived all of the aforementioned natural disasters affecting the Los Angeles area, my wellbeing was now up to the will of the hurricane deities. Questioning my fate got me fondly thinking of my canine companion,
Cardiff
, and appreciating his safe keeping at home. As a significant contingent of canine and feline conference goers were in attendance, I hope their human caretakers established a pet safety plan in the face of Hurricane Irene. The latest natural disaster to affect the eastern United States has inspired me to share my top pet emergency preparedness tips.

Properly Identify Your Pet

A safe return home may occur more readily if the lost pet bears up to date identification. Fit your dog or cat with a cervical (neck) collar tagged or embroidered with the pet's name and your phone number or email.
As collars can be removed or fall off, microchip implantation increases the likelihood of a reasonable pet return as long as your personal information is kept up to date with the microchip manufacturer. Ideally, use both a cervical collar and a microchip.
Know Your Pet's Location

An emergency's urgency may cause your pet's location to be unknown. Cats and small dogs escape stressful situations and potential harm by seeking refuge under a bed, in a closet, or another safe spot. Larger breed dogs typically have a more obvious presence, but they can instinctually flee from any scene unbeknownst to their owner. Always maintain the utmost awareness of your pet's location in your house, yard, or public space. Knowing a pet's daily habits, including the preferential locations for napping, nesting, or hiding, can facilitate their discovery.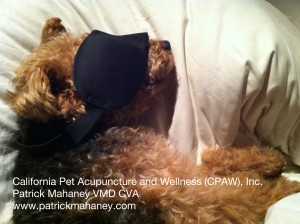 Alert Emergency Personnel of Your Pet's Presence in Your Home

A clearly posted notification will alert emergency personnel of your pet's presence in your home. In 2009, the
American Kennel Club (AKC)
and ADT Security Services partnered to create
window clings
featuring space for owners to share information about their pet (dog, cat, other, date). I suggest an animal's breed, color, weight should be included in future cling printings.

Securely Transport Your Pet

Crises typically force people and pets to flee the home environment in a sudden manner. To ensure our pet's in flight safety, secure transport modalities are vitally important. Rigid or soft airline-approved carriers should be used to for cats and small dogs. The name, species, color, breed, and weight of your pet, along with your contact information, should be clearly emblazoned on the outside of the carrier. As carriers do not facilitate reasonable transport of medium and large breed dogs, use a cervical collar or chest harness and leash. In case of a water emergency, use a pet appropriate life vest (like Cardiff's comfortable and mobility permitting
Outward Hound version from Kygen
).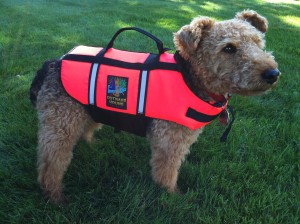 Promote a Stress Reduced State for Your Pet

A calmer emotional state can be achieved by administering a dose of a stress relieving product, such as Rescue Remedy Pet, 1-2 hours before a distressing event (fireworks, thunderstorms, tornado-induced lift off of your home, etc). I often administer this product to my acupuncture patients to promote better acceptance of needle insertion (see
ZooToo TV: Herbal Remedies Calm Spastic Pets
).
Keep Pet Supplies, Medications, and Food Readily Accessible

Pet supplies, medications, and food should be kept in readily accessible and transportable containers. As many pets need consistent treatment to manage chronic conditions, prepare ahead to prevent an emergency from causing a therapeutic interruption.
 Since Cardiff receives daily medication and supplements to manage his
Immune Mediated Hemolytic Anemia (IMHA)
, I use a Monday through Friday AM/PM pill dispenser.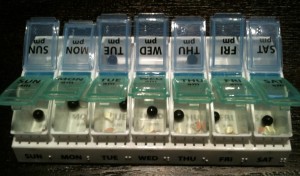 Digestive upset is often associated with food changes. Containers supplying multiple portions of food can maintain consistent feeding in the face of an abrupt departure from your home. Canine or feline emergency preparedness kits are available through
Pet-Pac
("the pet evacuation and travel kit"), or you can make a DIY (Do It Yourself) version.

Immediately Seek Veterinary Care

Emergency situations can expose your pet to smoke, fire, water, or other noxious substances. The need to seek urgent care from an emergency veterinary facility is a realistic possibility. Tissue trauma from heat, moisture, or chemicals is not always readily apparent. Internal and external body systems can quickly be damaged and cause life threatening malfunction of vital organs (brain, heart, and lungs). Radiographs (x-rays), blood tests, and other diagnostics are often required to facilitate your pet's proper diagnosis and appropriate treatment. 

I am hopeful that I make it out of Hurricane Irene's path and am soon home in Los Angeles with Cardiff where, as far as I am aware, no natural disasters have struck as of late. Prepare to take evasive action in the face of the next environmental crisis by creating a pet emergency preparedness strategy. Your dog, cat, or other companion animal will be grateful for your responsible caretaking.
Related Articles

Ricki Lake Fire Tragedy Teaches Lessons in Pet Emergency Preparedness

Southern California Wildfires Can Negatively Impact Your Pet's Health
Personal Coyote Encounter Prompts Updated Pet Safety Tips
Photo Credit:
Flickr Creative Commons UnderTow851
Please feel free to communicate with me through email (patrick@patrickmahaney.com) or Twitter (
@PatrickMahaney)
. Follow my adventures in veterinary medicine by friending
Patrick Mahaney: Veterinarian Acupuncture Pain Management for Your Pets
on Facebook. Thank you for reading my article. To receive my next article via email, please press the "Don't Miss a Blog Post" button on the right upper corner of this page or follow
this link
. Copyright of this article (2011) is owned by
Dr. Patrick Mahaney
, Veterinarian and Certified Veterinary Acupuncturist. Republishing any portion of this article must first be authorized by Dr. Patrick Mahaney. Requests for republishing must be approved by Dr. Patrick Mahaney and received in written format.