I am so happy that my IMHA is in remission and my good health permitted me to celebrate my 6th Halloween. In general, I tolerate costumes very well but don't want Halloween outfits to be part of my everyday life.
My dads are always looking out for my best interests and have me wear costumes that appropriately fit my sturdy terrier body and don't cause any discomfort. This year, I was a "handsome little devil" (as my dads called me). The devil costume is more appropriate for my personality than last year's "Doggie Howser" costume. I sharpened my horns, smoothed out my cape, and I attended my first Halloween party at The Healthy Spot in West Hollywood.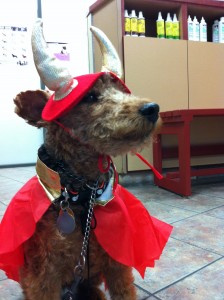 The Healthy Spot event was more of a pet and people event, so I got to check out the fun costumes worn by other dogs and make some new canine buddies. My favorite costume was that worn by a dog appearing to be a flower sitting in a pot.
She growled at me and tried to bite my nose when I got close enough to pay her a compliment. So, I turned my attention to this cute Chihuahua in a tulle skirt and pumpkin shirt.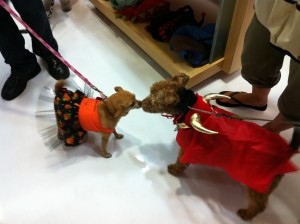 One of the highlights of The Health Spot party (for both my dad and I) was meeting the party's emcee, Debra Wilson Skelton, from Mad TV. My dad has always admired her comedic talents, as she does a spot on impersonation of Whitney Houston in her "Whitney Screws Up the Classics" skit.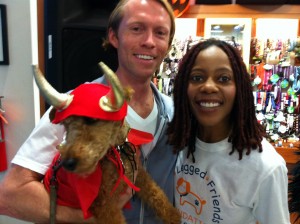 Wilson was kind enough to pose for pictures, then she gave my dad's business (CPAW, Inc) some great promotion with an enthusiastic announcement to the party attendees.
[youtube]http://www.youtube.com/watch?v=Q3atXUGo2go[/youtube]
For my second outing on Halloween night, I wore a very comfortable Old Navy pumpkin t-shirt paired with a black and orange skull themed collar. The total cost for this comfortable, festive Halloween look was $2.00 (sorry, but my jewish tourettes just came out). My other dad took me for an early evening stroll down Santa Monica boulevard to visit my dad while he was working at TLC Pet Medical Center.
Here's a funny picture of my other dad dressed up like my dad with me playing the role of "veterinary patient".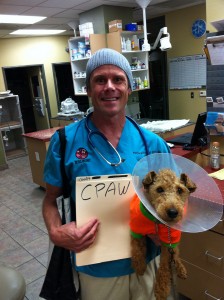 We got to witness some of the craziness as we walked the boulevard on the way to a gathering Varon Hair Studio, where my dads' get their haircuts. The WeHo Carnaval is not the best place for pets, so we escaped early and spend the rest of the night cuddling in bed.
Overall, I had a great Halloween and look forward to a fun, new costume for next year.
Thank you for reading my latest dog blog post. To receive an email with my next blog post (or my dad's veterinary blog), please press the "Don't Miss a Blog Post" button on our webpage or follow this link.