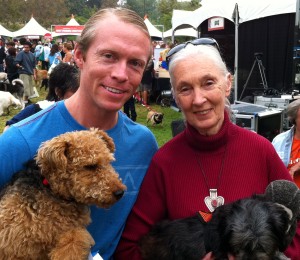 Cardiff and I are always eager to participate in the promotion of animal welfare causes (we'll even eat Lucky Dog Cuisine to raise awareness of Nitro's Law). This weekend, we attended of Best Friends Animal Society's Strut Your Mutt LA.
Strut Your Mutt benefits many Best Friends No More Homeless Pets Network Partners (all registered 501c3 organizations), through the generation of funds and publicity, which help promote animal health and well-being.
The motivation behind Best Friends' motto, Get Involved, Help Save a Life, was clearly shown through enthusiastic volunteers who ensured the pet and human participants stayed safe, hydrated, and well informed.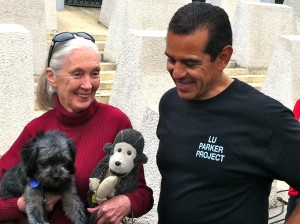 Many prominent media fixtures to lend their celebrity to the cause, including humanitarian legend Jane Goodall, Los Angeles mayor Anthony Villaraigosa, and former Miss USA/animal welfare advocate Lu Parker.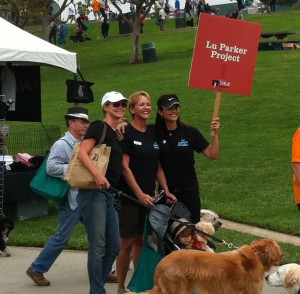 Disney's Spooky Buddies also lent additional enhancement to the event's already scarily high cuteness quotient.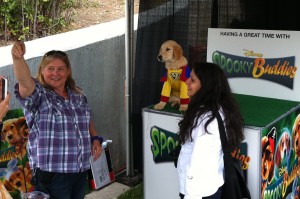 Even if you didn't make it to this year's Strut Your Mutt, you can still help Best Friends Animal Society's cause by adopting a Best Friends pet or visiting their sanctuary in Utah. Best Friends will even arrange of transportation of your new companion regardless of where you live in the US or Canada. Contact adoptions@bestfriends.org or call 435-644-2001 x 4223 for more information.
Cardiff and I look forward to participating in Strut Your Mutt LA 2012. We hope to see you and your furry friends strutting for a good cause.
Thank you for reading my article. To receive my next article via email, please press the "Don't Miss a Blog Post" button on the right upper corner of this page or follow this link.
Please feel free to communicate with me through email (patrick@patrickmahaney.com) or Twitter (@PatrickMahaney).
Follow my adventures in veterinary medicine by friending Patrick Mahaney: Veterinarian Acupuncture Pain Management for Your Pets on Facebook.
Copyright of this article (2011) is owned by Dr. Patrick Mahaney, Veterinarian and Certified Veterinary Acupuncturist. Republishing any portion of this article must first be authorized by Dr. Patrick Mahaney. Requests for republishing must be approved by Dr. Patrick Mahaney and received in written format.