This article originally appeared on
Dr. Mahaney's Pet-Lebrity News
column on Pet360.com as A Fond Farewell to Uggie the Jack Russell Terrier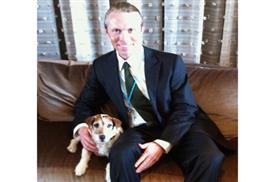 Last week, fans with heavy hearts bid Uggie, the Jack Russell Terrier and canine star of the film The Artist, a fond farewell. According to
Daily Mail
, Uggie was put to sleep at the advanced age of 13 years after a battle with prostate cancer.
Before he rose to fame and captured the hearts of audiences worldwide with his appealing presence in The Artist, one of Uggie's big screen roles was in the movie Water for Elephants, also starring with Reese Witherspoon and Robert Pattinson. Uggie pulled an on-screen gender switch, playing the female role of Queenie.
I had the opportunity to meet and spend time with Uggie in 2012 at the Humane Society of the United States (HSUS) 26th Genesis Awards ceremony. He put on quite a show on the red carpet and onstage where he barked the award for Best Feature Film, Rise of the Planet of the Apes, with Genesis Awards host Carrie Ann Inaba from Dancing with the Stars. I also had the chance to hang with Uggie at the 2012 American Family Pet Expo. My dog, Cardiff, a Welsh Terrier, even got to greet Uggie and they shared mutual bum sniffs.
After seeing Uggie's big-screen turn in The Artist, I had to know more about this remarkable pooch and I interviewed one of his trainers, Sarah Clifford from Animal Savvy, for a petMD column about him. Clifford co-trained Uggie with Omar von Muller and collectively they managed his on camera work and media appearances.
In The Artist, there are scenes where Uggie reacts intensely to the predicaments in which his owner George Valentin (Jean Dujardin) finds himself. Uggie barks vociferously while Valentin sinks into a quicksand movie prop and attracts a police officer's attention while Valentin is rendered unconscious during a fire.
Considering these aren't day-to-day actions for most dogs, I was curious about Clifford's perspective on Uggie's awareness that Valetin was only acting or if Uggie really sensed his master was in danger. Clifford responded, "that's a really good question" and said that, although dogs like Uggie are professional actors, they don't necessarily recognize the difference between acting and real life. Additionally, she said that dogs react emotionally and since Uggie spent so much time on set with Dujardin, their strong bond could have blurred the dog's distinction between reality and fantasy. I imagine that Uggie felt a great sense of relief when the action ended and his master emerged unscathed.
I was also curious about the effects of the copious cigarette smoke featured in The Artist on Uggie's eyes, nose, respiratory tract and other body parts. Clifford quelled my fears by reporting that an American Human Association (AHA) representative was on set to ensure compliance to Guidelines for the Safe Use of Animals in Filmed Media. Fortunately, the cigarettes used in The Artist were movie cigarettes that produced minimal smoke and were deemed safe under the AHA's guidelines.
Being a true Hollywood dog, I figured that Uggie must have had some stay-slim secrets to share with his canine fans. I asked Clifford about Uggie's dietary regimen and was displeased to hear her report that Uggie ate Kirkland dry dog food. Unfortunately, many of the ingredients in kibble don't exist in nature, are highly processed (i.e. aren't whole foods), and contain feed-grade ingredients deemed unfit for human consumption. I was relieved to learn that at least part of the nutrients he consumes are human-grade and whole food-based, as Clifford shared that for training, Uggie received 'high value' treats, such as cooked chicken or steak and the occasional healthy hot dog, along with carrots.
Besides Uggie's acting, I asked what Uggie liked do with his personal time and what his home life was like. Clifford reported that Uggie lived with six other dogs and two cats, slept on his owner's bed and loved to lounge by the pool on his days off. He certainly sounds to have had a great quality of life for his 13 years.
Rest in peace Uggie. Your positive presence in the movies and other projects you participated will live for a lifetime.
Have you ever memorialized your pet in writing, photos, art, or other mediums? Feel free to share your experiences in the comments section.
Thank you for reading this article. Your constructive comments are welcome (although I may not respond).
Please follow my adventures in veterinary medicine and life via:
Copyright of this article (2015) is owned by Dr Patrick Mahaney, Veterinarian and Certified Veterinary Acupuncturist. Republishing any portion of this article must first be authorized by Dr Patrick Mahaney. Requests for republishing must be approved by Dr Patrick Mahaney and received in written format.