Hello readers of Patrick's Blog,
I hope that you had a great Thanksgiving surrounded by loved ones and healthy pets. Perhaps you read my "Thanksgiving Holiday Pet Safety Tips", which I would love for you to share with other pet owners throughout the holiday season.
Recently, a patient of mine tragically died in a house fire. Please help me to commemorate Valentine by sharing her memory with your pet loving compatriots all over the world.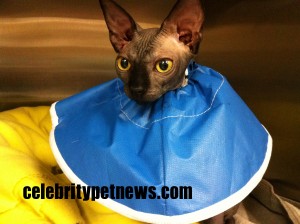 Feline Friend of Kat Von D Dies in House Fire
It is always hard to lose a loved one, especially when the loss is sudden and tragic. My condolences go out to TLC reality show "LA Ink" star Kat Von D for the loss of her cat, Valentine, who died when Von D's California home was destroyed by a fire.
I read the report of Valentine's death in the New York Post and felt my pulse quicken as....
Please follow this link to view the rest of Valentine's memorial.
Thank you,
Dr. Patrick Mahaney