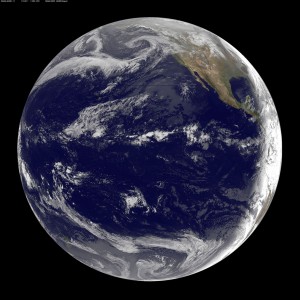 The 8.9 earthquake off the coast of Honshu, Japan is reportedly the 5th strongest ever recorded. The quake created a tsunami which dealt a destructive blow to the humans and pets inhabiting Japan's cities, towns, and rural areas. As tsunami like waves from the Japanese earthquake affected multiple states along the west coast of the United States, the
California Emergency Management Agency
released warnings for California coastal cities. In the ensuing aftermath of the world's latest natural disaster, I feel compelled to share my perspective on pet emergency preparedness.
Be aware of your pet's location
In the urgency of a natural disaster or other emergency, sometimes a pet's location may be unknown. Cats and small dogs can hide in a closet, under a bed, or elsewhere in attempt to escape the stress and potential harm. Medium and large breed dogs typically make their presence more obvious, but they may instinctually flee from a dangerous scene unbeknownst to their concerned owner. Be consistently aware of your pet's location in your house, yard, or public place. Frequently observe your pet's habits, including their preferential location to nap, nest, or hide. Knowing your pet's "free time" habits can facilitate their discovery in the face of an emergency.
Have your pet wear identification
Should your pet escape your home environment, a safe return may occur more readily if the lost pet bears up to date identification. Fit your dog or cat with a cervical (neck) collar embroidered with or displaying a tag displaying the pet's name and (at least) your phone number or email. Collars can be removed or fall off, therefore microchip implantation increases the likelihood you will be reunited with your pet. Keep your personal information up to date with the microchip manufacturer. As microchip identification requires a scanner and collars can go missing, the use of both is ideal.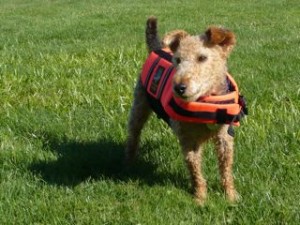 Transport your pet in a manner promoting security
If a sudden crisis forces you to flee your home environment, make sure to transport your pet in an a secure manner. Cats and small dogs should be placed in a protective (rigid or soft), airline approved carrier. Your pet's name, species, color, breed, and weight, along with your contact information, should be easily visible on the outside of the carrier. Medium and large breed dogs are not easily transported via carrier, use a cervical collar or chest harness and leash to maintain control of your pet's movements. Cardiff lends his image of how he prepares for a water emergency by wearing a life vest.
Promote a stress reduced state for your pet
Encourage a calmer state by giving your pet a dose of a stress relieving product, such as
Rescue Remedy Pet
, 1-2 hours before a potentially distressing event. I often administer this product to my patients in conjunction with acupuncture treatments to promote better acceptance the sensation initially caused by needle insertion. See my discussion of Rescue Remedy use in pets by following this
ZooToo TV link.
Keep pet supplies and medications readily accessible
To ensure the ongoing health of your pet, keep supplies and food in easily accessible and transportable containers. As many pets need consistent treatment to manage chronic conditions, an emergency could cause a therapeutic interruption. My dog,
Cardiff
, has Immune Mediated Hemolytic Anemia (
IMHA)
, so I use a Monday through Friday AM/PM pill dispenser to keep his medication and supplements organized whether we are at home or traveling.
To reduce the likelihood your pet will suffer from digestive upset associated with food changes, keep containers of food supplying multiple portions ready in case of abrupt departure.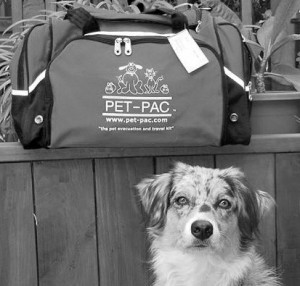 You can make a DIY (Do It Yourself) kit at home, or purchase one of the excellent canine or feline options available through
Pet-Pac
("the pet evacuation and travel kit"). I recently met with the proprietors (and their loyal Australian Shepherd mascot, Shanna) of Pet-Pac, learned about the contents of these survival sets, and will be soon be acquiring one for planned or emergency travel with Cardiff.
Alert emergency personnel of your pet's presence in your home
To better alert emergency personnel of your pet's presence in your home, post a notification in a clearly viewed window. In 2009, the
American Kennel Club (AKC)
and ADT Security Services partnered to create
window clings
so pet owners can write information about their pet (dog, cat, other, date). I hope the clings will eventually include more details, such as those mentioned in the above section about safe pet transport.
Seek veterinary care immediately
In the face of a variety of emergency situations, a pet could be exposed to smoke, fire, water, or other noxious substances which require immediate care from an emergency veterinary facility. Tissue trauma from heat, moisture, or chemicals may not be readily apparent from external evaluation. Internal organs can quickly be damaged and cause life threatening malfunction of vital organs (brain, heart, and lungs). Determination of the degree of organ system trauma may require diagnostics (x-rays, blood tests, etc) to permit the best treatment for your pet's particular condition. For the sake of the your health and that of your pet, I hope that you and your pet never forced to take action in dealing with an emergency. As I have learned from my clinical practice, it is always is best to ready oneself and our pets for the unforeseeable by following the above recommendations as part of an emergency preparedness strategy.
Related Articles
Ricki Lake Fire Tragedy Teaches Lessons in Pet Emergency Preparedness
Southern California Wildfires Can Negatively Impact Your Pet's Health
Personal Coyote Encounter Prompts Updated Pet Safety Tips
Photo Credit: GOES 11 Satellite Sees Pacific Ocean Basin After Japan Earthquake photo by
NASA Goddard Photo and Video
— Licensed under
Creative Commons Attribution 2.0 Generic
Thank you for reading my article. To receive my next article via email, please press the "Don't Miss a Blog Post" button on the right upper corner of this page or follow
this link
. Copyright of this article (2011) is owned by
Dr. Patrick Mahaney
, Veterinarian and Certified Veterinary Acupuncturist. Republishing any portion of this article must first be authorized by Dr. Patrick Mahaney. Requests for republishing must be approved by Dr. Patrick Mahaney and received in written format.