Well, another SuperZoo has come and gone. For those of you who are unfamiliar, SuperZoo was founded in 1950 by the World Pet Association (WPA) and is the world's largest pet trade show which occurs annually in Las Vegas.
I've previously attended SuperZoo, but my prior role had me committed to one company for a day and my free time to see the latest products available for our canine, feline, and other animal companions were quite limited. This year, I was able to take in three days of SuperZoo and was impressed by many of the offerings.
As a practicing veterinarian, my primary interests with pet products are those that promote health, safety, and general wellness. As a result, I selectively approach my time in the vendor hall and gravitate towards particular manufacturers and types of products. Fortunately, I had ample opportunity to learn about numerous new and unique wares and make introductions to company founders and other executives.
Here are my top product picks for SuperZoo 2019.
Sleepypod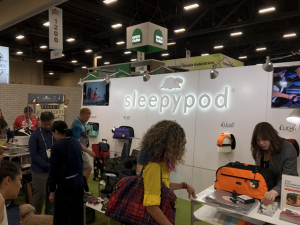 Sleepypod makes pet carriers, bed warmers, transportable bowls, bags, blankets, and other devices that are thoughtfully and stylishly designed and test-certified for reliability.
At SuperZoo, we saw the unveiling of Sleepypod's new cat harness, dog leash, and numerous new colors for their existing offerings.
Many owners don't thoroughly consider the potential for their cat or dog to be severely injured or even killed should a car accident occur, which is why I respect Sleepypod's commitment to rigorous standards in having their beds (Sleepypod Mobile Pet Bed and Mini) and carriers (Atom and Air) and safety harnesses (Clickit Sport and Terrain) pass rigorous Centers for Pet Safety testing and achieve 5-star ratings.
One of my favorite Sleepypod products that didn't necessarily debut at SuperZoo but is always worth mentioning is the Assisi Loop Lounge Air and Atom. These airline-appropriate carriers (which also are great for day-to-day car travel around town) can be purchased with a built-in Assisi Loop to provide targeted pulsed electromagnetic field therapy (tPEMF™️) which promotes tissue healing for pets recovering from acute or chronic injuries (like arthritis, intervertebral disc disease [IVDD], etc.) and trauma (surgical, blunt, etc.).
The Sleepypod Loop Lounge Air was a useful recovery tool for my patient Dolly the Dachshund, for whom I did a medical board in my home for many months post-surgery to remove a ruptured intervertebral disc. Check out this YouTube video sharing my perspective on the product: Dr. Patrick Mahaney Presents Why I Recommend the Sleepypod Assisi Loop Lounge Air for My Patients
Earthbath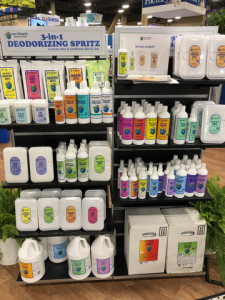 Keeping my patients' ears, coat, paws, and skin clean is a crucial part of my role as a veterinarian. From bathing and conditioning to wiping and spraying, there are many techniques that can be utilized in keeping our pets unsoiled, smelling fresh, and looking their best.
I'm a big fan of empowering owners to take measures in managing their own pet's skin and coat (as compared to solely upon professional grooming services to clean on a less-frequent basis) and Earthbath has numerous options for all-natural, chemical-free, pet-safe products.
For all-purpose washing for my canine and feline patients, I commonly recommend a shampoo like Oatmeal & Aloe Shampoo and following up with Oatmeal & Aloe Conditioner (both of which also come in Fragrance-Free version). Besides, the shampoo and conditioner, I'm also a fan of alcohol and paraben-free No Chew Spray (to deter self-licking, such as the paws, around surgery sites, etc.) and Hot Spot Relief Spritz (to soothe localized areas of irritated skin).
TEEF!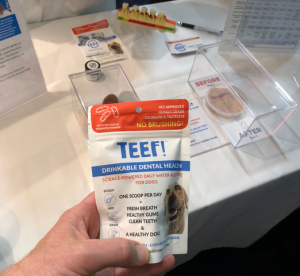 As periodontal disease is one of the top ailments we veterinarians see in our patients, often leads to irreversible tooth and gum problems, and can contribute to internal organ damage, I'm always stressing to my clients that daily efforts must be made to prevent the accumulation of dental plaque, tartar, and calculus and the development of gingivitis (gum inflammation).
Regardless of how much I emphasize the importance of teeth cleaning and strive to make it simple with a tooth wipe or brush, the threshold to actually getting owners on board to do so can be a limiting factor in promoting my patients' better periodontal health.
I came into SuperZoo knowing about TEEF! through a client of mine and definitely wanted to learn more in person. TEEF! is a powder that's added to your pet's daily water which contains "Protektin, a patented combination of 4 naturally safe, bioactive ingredients which "selectively favors health-promoting bacteria to flourish in your pet's mouth, while disrupting dangerous bacteria, so your pet can benefit."
TEEF! was first developed for people, but the technology was perceived to be so useful in deterring oral cavity bacterial growth that it then was applied to pets.
I also tasted the TEEF! water that was set out for interested parties and I must declare that I was not even aware that any additive had been put into the water.
WHIMZEES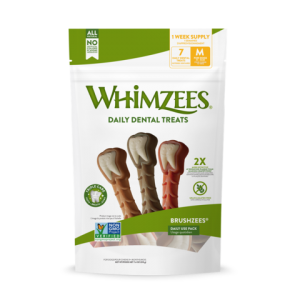 Due to the aforementioned challenges with getting owners to brush their cats' and dogs' teeth, I'm also a fan of treats and chews that can have an abrasive effect in reducing food debris and bacteria accumulation on teeth and stimulating gums.
Many dogs are biologically driven to chew and doing so provides health benefits to the oral cavity along with behavioral enrichment to occupy time and deter separation anxiety. One challenge owners face in selecting the appropriate chew for their dogs is finding an option having reduced likelihood of causing tooth damage like fractures and attrition (wear).
WHIMZEES have numerous options on which pets can chew, but I'm most-interested in Brushzees, which are potato-starch based, vegetarian chews that have met the standards of the Veterinary Oral Health Council and awarded the VOHC seal in 2019.
Of course, an aggressively chewing dog could potentially cause tooth damage on nearly any object which enters its mouth. So, it's crucial that owners use careful oversight in selecting the appropriate dental chew and closely monitor their pet's chewing habits.
Oxyfresh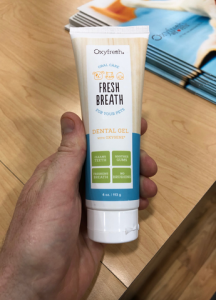 I was intrigued to discover the plethora of Oxyfresh options for pets. From shampoo to household deodorizer, there are a variety of means by which one's home and pet can benefit.
As previously mentioned, I'm always striving to get my clients to provide daily home dental care to my canine and feline patients. So, I was psyched to discover Oxyfresh Dental Gel Toothpaste's "blend of Oxygene® and aloe safely eliminates bacteria that causes bad pet breath, while also removing plaque buildup and protecting sensitive pet gums."
I'm very inclined to personally experience products that could benefit my patients I gave it a demo (which you can see in this video on @patrickmahaney Instagram Stories; after clicking the link please scroll through to get to the video). As you'll see, it was a pleasant experience and one I can advocate for my patients.
TrueBlue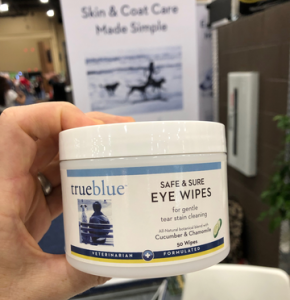 Considering my aforementioned passion for pet grooming maintenance, I was pleased to see Los-Angeles based TrueBlue in attendance.
I've seen TrueBlue's shampoo, conditioner, and ear wipes in local pet stores and in my clients' homes. Yet, I discovered TrueBlue's Safe & Sure Eye Wipes, which I suspect will benefit many of my patients that commonly suffer from allergic eye conditions causing discharge and staining at the medial canthus (inner edges of the eyelids) due to Southern California's dry climate, windy conditions, and seemingly omnipresent blooming season.
Doc & Phoebe Indoor Hunter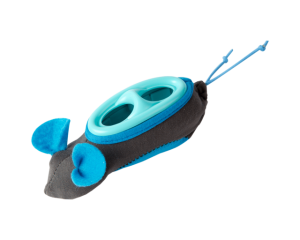 I'm always eager to share the good works of my fellow alumni from my alma mater, the School of Veterinary Medicine at the University of Pennsylvania. Liz Bales, a veterinarian who has taken pet-purposeful ingenuity to a new level by creating a novel product to pique the interest of our feline friends through portion-controlled feeding, graduated from Penn one year after me and masterminded the Doc & Phoebe Indoor Hunting Feeder to help combat the pet obesity epidemic.
Pet obesity has reached epidemic proportions in the U.S., with a 2018 survey conducted by the Association for Pet Obesity Prevention determining that over 100 million cats and dogs are overweight or obese. That's 56 percent of dogs and 60 percent of cats in the U.S., which is an unacceptable reflection of how we treat our beloved pets.
The Indoor Hunting Feeder does more than just fight pet obesity through portion control, it also caters to the need for behavioral stimulation, as many cats live less-than-interesting, indoor lives and are prone to boredom and immobility.
If you have a portly feline and are concerned about the eventual development of arthritis, constipation, diabetes, intervertebral disc disease, skin and coat problems, urinary tract disorders, and more that are associated with being overweight or obese and are potentially irreversible, then I highly recommend getting on the portion-control bandwagon and using the Indoor Hunting Feeder for your cat's meals or treats.
Honorable mention - Nativo Pet Company Nums Nums/Chews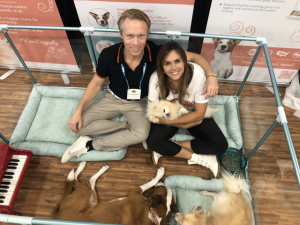 My friend, client, and celebrity dog trainer, Laura Nativo (CPDT-KA), launched Nativo Pet Company at SuperZoo 2019 and although treats like Num Nums and Chews are not yet available there was quite the buzz about the product's vendor area which featured the entertaining, piano-playing prowess of company mascot Preston Casanova himself at the booth. Of course, the presence of canine actresses, Delilah Jane Sassafras and Penelope Supafly in the kissing booth also drew in the admirers.
That's it for my wrap up of SuperZoo 2019. Did you go to SuperZoo or have an opinion of any of the above companies or products featured in this article?
Dr. Patrick Mahaney
Follow my adventures in veterinary medicine and life via Instagram (
@PatrickMahaney
), Twitter (
@PatrickMahaney
), and Facebook (
Patrick Mahaney: Veterinarian Acupuncture Pain Management for Your Pets
). Copyright of this article (2019) is owned by Dr. Patrick Mahaney, Veterinarian, Certified Veterinary Acupuncturist and Certified Veterinary Journalist. Republishing any portion of this article must first be authorized by Dr. Patrick Mahaney. Requests for republishing must be approved by Dr. Patrick Mahaney and received in written format. *FTC Disclosure: I was not compensated to include any of the above companies or products in this article or in my social media. I would never feature a product on
www.patrickmahaney.com
with which my veterinary practice did not have synergy and strive to share products that can help pet owners that discover my reviews.