Should you get your pet any gifts this holiday season?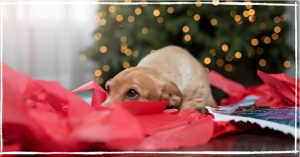 Personally, I am more of a fan of taking the money one would spend on gifts that a pet may not truly need and instead investing it in veterinary care or training.
Learn about my top suggestions for pet winter holiday gift giving via this article Dr. Patrick Mahaney's pet Holiday Gift Guide 2015
Thank you for reading this article.  Your constructive comments are welcome (although I may not respond).
Please follow my adventures in veterinary medicine and life via:
Copyright of this article (2015) is owned by Dr Patrick Mahaney, Veterinarian and Certified Veterinary Acupuncturist. Republishing any portion of this article must first be authorized by Dr Patrick Mahaney. Requests for republishing must be approved by Dr Patrick Mahaney and received in written format.