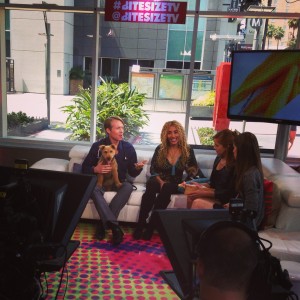 I recently was asked by my client Ava Sydney to appear on The Girl Spot Body Temple LA on BiteSizeTV.com to discuss pet choking dangers and CPR.
Go to Bitesizetv.com to watch the entire episode.  Cardiff and I really enjoyed our time on set and look forward to returning in the future to cover more pet health topics. Thank you Ava and Cosita (my Yorkie patient wearing the sport coat and tie collar combination) for inviting us!
Thank you for reading this article.  Your questions and comments are completely welcome (I'll respond).
Copyright of this article (2014) is owned by Dr Patrick Mahaney, Veterinarian and Certified Veterinary Acupuncturist. Republishing any portion of this article must first be authorized by Dr Patrick Mahaney. Requests for republishing must be approved by Dr Patrick Mahaney and received in written format