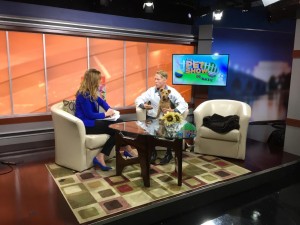 Are you aware that your pet's cancer can be treated holistically? When it comes down to it, the holistic approach involves taking into account whole-body function and not just focusing on killing cancer cells and can improve a pet's clinical response to treatment.
Generally, the holistic approach involves providing medications, supplements, herbs, whole-food diet, and other modalities (acupuncture, etc.) to help minimize the side effects of chemotherapy and radiation. I had the opportunity to share Cardiff's cancer story including the integration of chemotherapy and other treatments on the ABC 7 WJLA program The Pet Show with Dr. Katy. See A Holistic Approach to Cancer in Pets.
Dr. Patrick Mahaney
Thank you for reading this article.  Your questions and comments are completely welcome. Please feel free to communicate with me through Twitter (@PatrickMahaney) and follow my adventures in veterinary medicine by liking Patrick Mahaney: Veterinarian Acupuncture Pain Management for Your Pets on Facebook. Copyright of this article (2016) is owned by Dr Patrick Mahaney, Veterinarian and Certified Veterinary Acupuncturist. Republishing any portion of this article must first be authorized by Dr Patrick Mahaney. Requests for republishing must be approved by Dr Patrick Mahaney and received in written format.