My first veterinary philanthropic trip has officially begun. I am currently en route to joining up with other veterinarians, technicians, and assistants in Peru as part of the
Amazon Cares
team. We will be spending the next two weeks in the depths of Amazon jungle helping pets and people in Iquitos adjacent communities having limited access to veterinary care. All the preparation and persistence in fundraising (you can still
sponsor me
with a tax deductible donation) has finally paid off and I'm ready to treat animals in need (besides the cats, dogs, and horses I regularly care for as patients through my business,
California Pet Acupuncture and Wellness, Inc
).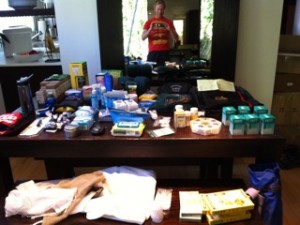 I can't believe how many seemingly essential items I have packed for this trip. As you can see, I have medications, dietary, supplements, outdoor adventure supplies, snacks, sanitary wipes, yoga mats, acupuncture needles and moxibustion sticks, and a variety of other items to ensure a smooth transition both into and out of South America. As I won't have access to a gym and it's likely not in the best interest of my personal safety to stray from our compound to go running, I will frequently be practicing yoga as part of my health maintenance routine. I figure that the mental clarity and physical benefits I get from yoga will do me some good considering how clogged my psyche has become with work related obligations as of late. I have a huge list of sponsors of my Amazon Cares cause to thank, which I will do in subsequent written and video blogs. The first thank you goes out to my amazing partner, Phil Hammond, who was instrumental in the planning process for me to go on this grand, "vetunteering" adventure. Thanks honey! Take good care of
Cardiff
. If only I could stuff him into my luggage, as I am sure he'd love a first-paw view of the kitty-esque native meats (guinea pig, etc) I will be sampling.
Bon voyage! I expect the next time I'll be internet accessible will be Saturday 4/23/11, once I return from Iquitos to Lima, so please permit my temporary dropping off of the grid. I'll make up for it ten fold with photos, video, and stories sharing my experience. Thank you for reading my article. To receive my next article via email, please press the "Don't Miss a Blog Post" button on the right upper corner of this page or follow
this link
. Copyright of this article (2011) is owned by
Dr. Patrick Mahaney
, Veterinarian and Certified Veterinary Acupuncturist. Republishing any portion of this article must first be authorized by Dr. Patrick Mahaney. Requests for republishing must be approved by Dr. Patrick Mahaney and received in written format.