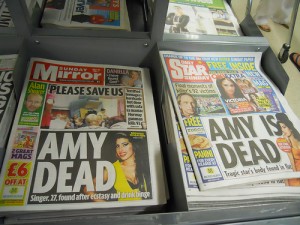 I am saddened to hear about the death of British soul chanteuse, Amy Winehouse. She was a truly amazing artist with whom I became familiar back in 2007 after a friend (and fellow veterinarian) introduced me to her unique sound. Winehouse's
Back to Black
quickly topped my most played list and remains a reliable listening experience while driving, hosting a dinner party, or providing veterinary acupuncture treatments. Actually, Winehouse's foreboding song
Rehab
can be spun positively and nicely accompanies my provision of an acupressure massage or needling to a canine or feline patient. In hearing of Winehouse's passing, I wonder if she left behind any pets. Having only seen one image of her walking a dog, as she does with what appears to be a Scottish Terrier on the cover of her album
Frank
, I found myself searching for a connection between Winehouse and companion animals. In February 2010, Lana Berkowitz's A Pets Chronicle featured a blog titled
Amy Winehouse calls shelter to take her cats
, which sheds light on Winehouse's apparent problem with feline collecting.
She called a shelter to take 11 of them, according to ecorazzi.com. Just days before jetting off to Jamaica, Amy Winehouse called an animal shelter and asked them to collect her cats. Winehouse had previously given two felines to her goddaughter, singer Dionne Bromfield, but it was reported that the "Rehab" singer had as many as 11 cats at one time. "Amy was pretty upset about it because she loved them dearly, but she had to give them up," a source told The Sun. "They were climbing all over the place, breeding and generally getting out of control." Earlier this year, Winehouse received the moniker "Catwoman" after bringing more cats into her London home. The Sun reported, "She loves cats but doesn't know when to stop. Controlling that many is proving to be a disaster." Typical of her addictive personality, this is the second time Amy Winehouse has collected a gaggle of kitties just to turn and give them away. Last year she dumped her furry companions with friends before heading to the Caribbean.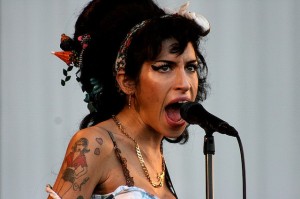 Considering Winehouse's well documented drug and alcohol abuse, it does not surprise me that she exhibited a propensity toward animal hoarding and could not sufficiently care for her feline companions. In my house call clinical practice, I have dealt with people having personal situations similar to Winehouse, which motivated me to write
Veterinary Perspective on Animal Planet's Confessions: Animal Hoarding
. Although I am disturbed by the report of sexually intact male and female cats indiscriminately breeding in the house of Winehouse, I give her some posthumous respect for attempting to find a new home for her feline flatmates. Besides cats, Winehouse also expressed affection for birds. In Brad Wheeler's The Globe and Mail article
Amy Winehouse's Erratic Past Shouldn't Overshadow an Unforgettable Voice
we learn about Winehouse's crafting of a tune in honor of an avian companion.
 Wheeler reports:
Amy Winehouse wrote the slinky, jazzed October Song in memory of her pet canary. The bird, Ava, named after the tempestuous dark-haired actress Ava Gardner, would wake the English singer in the morning, "twittering away," Winehouse said, "and rocking on her little swing." The bird's death left her heartbroken, but with some solace. "It was a sad time," she recalled, "but I got a good song out of it."
October Song
is one of Winehouse's many upbeat songs off of
Frank
, which sharply contrasts with the darker sound of
Black to Black
. From now on, I will listen to this tune with an increased appreciation of the song's unique muse. If Winehouse did have any pets at the time of her death, I hope that their care will be undertaken by a responsible adult or rescue organization. The sudden loss of a human or animal household member can have behavioral and physical repercussions on a pet. Changes in energy and digestive habits, or other concerning clinical signs, may be clues that your pet is having problems coping with a companion's loss. Should your dog, cat, or canary (or other pet of choice) exhibit such signs, make sure to pursue an examination by a veterinarian. Although Winehouse is gone, her legacy will live on through her music and amusing effigies. This
birthday card
combines a cute feline face with Winehouse's signature beehive hairdo.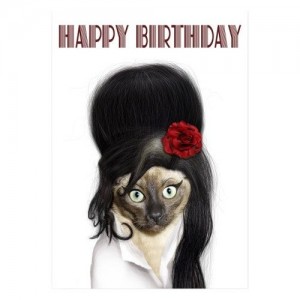 Thank you for reading my article. To receive my next veterinary posting via email, please press the "Don't Miss a Blog Post" button on the right upper corner of this page or follow
this link
. Feel free to leave your comments or communicate with me through email (
patrick@patrickmahaney.com
) or Twitter (
@PatrickMahaney
). Follow my adventures in veterinary medicine by friending
Patrick Mahaney: Veterinarian Acupuncture Pain Management for Your Pets
on Facebook. Photo Credits: Flickr Creative Commons
Gene Hunt
and
Fyunkie
. Copyright of this article (2011) is owned by
Dr. Patrick Mahaney
, Veterinarian and Certified Veterinary Acupuncturist. Republishing any portion of this article must first be authorized by Dr. Patrick Mahaney. Requests for republishing must be approved by Dr. Patrick Mahaney and received in written format.