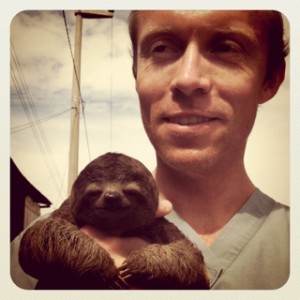 During my
Amazon Cares
veterinary volunteer trip to Peru, I made the most of my free time by partaking in planned excursions centered around experiencing the native animals of the Amazon Jungle. One early morning boat trip took me to see the sloths that lived near our housing at the
Explornapo Lodge
. Apparently, the sloths descend from their typical tree top residences to defecate on a daily basis, which makes the crack of dawn the best time for sloth sightings. Unfortunately for us (or perhaps fortunately, as spying on a sloth copping a squat is not high on my priority list), no sloths must have been feeling their biological urge to void as none were sighted. Two days later, while on a giant lilly pad hunt further up the Amazon River, we were eagerly greeted by a man and elderly woman selling their crafty wares. In addition to their handmade items (I bought a bracelet), they offered us the chance to see, touch, and take photos with their native captive creatures. A sloth, anaconda, squirrel monkey, and Cayman alligator were all on display. I did not inquire as to the animals' price, but I gave a nice tip as compensation for the photo opportunity.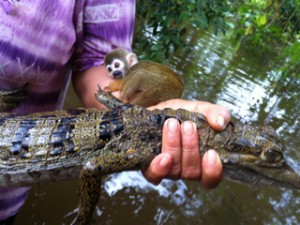 It was my first real life sloth sighting and I was amazed by the animatronic quality of the creature's appearance. His movements we reminiscent of a dream-like state where I struggle to escape my antagonist, yet my leg and arm flailing take me nowhere. I got photo with my new furry friend, yet I was reluctant to hold the creature, which had just fallen from its perch and was soaked with Amazon River water. Plus, sloths are reportedly carriers of sarcoptic mange and other biting arthropods, so I wanted to keep a sanitary distance.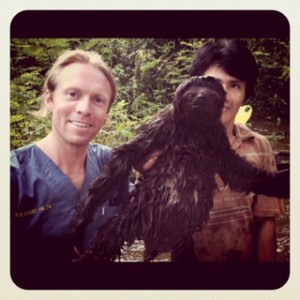 While working at our last site of out vets abroad trip, groups of children came by to bring their dogs and cats in for treatment. One gentle boy brought with him a petite, clean, seemingly healthy sloth. I was excited to get to know this peculiar creature up close and personally.
 The
E.T.
-esque face, boxy head, coarse fur, and fierce looking claws make for a unique combination of sweet and potentially lethal.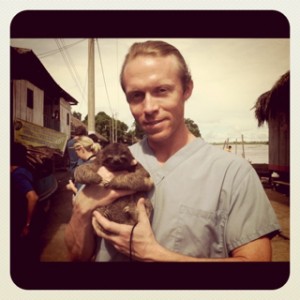 After my cuteness quotient was reached and commemorative photos were take, I passed him back to the caretaker boy. Even thought the sloth had been removed from his native surroundings into a state of domestication with humans, the creature seemed very content to hang by its arms from the boy's neck. Although I don't condone adopting wildlife as pets, I am unaware of the circumstances surrounding this sloth's inclusion into a human family. I hope the boy and his family keep my new sloth friend healthy and happy for many years to come. Thank you to
i Love Dogs
premium canine supplements for your premiere sponsorship of our vets abroad trip into the Amazon Jungle in the name of animal welfare. Thank you for reading my article. To receive my next update of my trip to Peru via email, please press the "Don't Miss a Blog Post" button on the right upper corner of this page or follow
this link
. To access all my Vets Abroad articles, follow
this link
. Make sure to follow my Amazon Cares adventures by friending
Patrick Mahaney: Veterinarian Acupuncture Pain Management for Your Pets
on Facebook and @PatrickMahaney on Twitter. Copyright of this article (2011) is owned by
Dr. Patrick Mahaney
, Veterinarian and Certified Veterinary Acupuncturist. Republishing any portion of this article must first be authorized by Dr. Patrick Mahaney. Requests for republishing must be approved by Dr. Patrick Mahaney and received in written format.