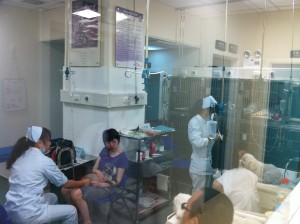 Cats and dogs calmly congregating in a communal treatment area. Concerned pet owners comforting a furry friend on their laps while receiving intravenous or subcutaneous fluids (once removed from a fashionable Burberry print pet carrier). Veterinary nurses with baby blue uniforms including matching face masks and hats. A cute Pekingese sporting a tiger dyed hairdo. All the above were unexpected sights that greeted me during my visit to
Beijing Meilian Aikang Animal Hospital (BMAAH)
in the Chaoyang area of Beijing, China. Although on this first trip to the PRC (People's Republic of China) I am a tourist, the opportunity arose to better educate myself as to the ins and outs of veterinary practice in Beijing.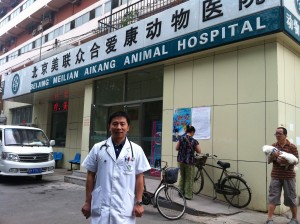 Dong Yi
, vice president of the
Beijing Small Animal Veterinary Association
, gave me the grand tour of his sparkling facility and patiently answered my questions in fluent English. Yi has advanced training and practices veterinary ophthalmology, yet there he is not officially considered a specialist. In China, there are no official board specialty certifications available to veterinarians at this time. Yi noted that the future for specialized veterinary practice is bright, as the educated and affluent Chinese population readily pursues comprehensive diagnostics and treatments for their beloved pets. Yi offers a variety of surgical and medical options for his patients having ophthalmologic abnormalities, such as cataract (opacity in the lens of the eye), entropion (inward rolling of the eyelid), distichiasis (hairs lining the edge of the eyelid causing abrasions to the eye), and glaucoma (elevated intraocular pressure). Besides eye problems, pets in China face many of the same health issues I treat in the United States, with commonalities including arthritis, diabetes, kidney failure, periodontal disease, and obesity.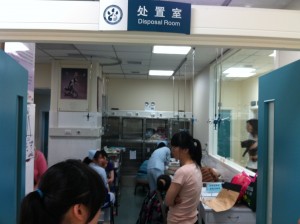 The general atmosphere of the busy treatment area (interestingly termed the "Disposal Room") was remarkably serene despite the presence of many nurses, clients, and dogs and cats undergoing medical care. Notably, a Pekingese placidly received intravenous fluids without any human restraint in close proximity to a Siamese cat sitting on the lap of an owner who was administering subcutaneous fluids. Perhaps the Chanel purse which supported the Pekingese's paw provided a soothing effect, lending a new perspective to the term "retail therapy".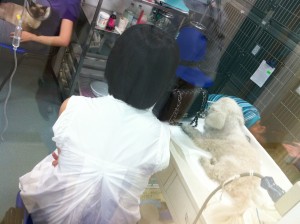 In China, an examination room is designated exclusively for the administration of vaccinations. Like California, the only legally required vaccination for dogs is Rabies. Other canine inoculations routinely given include DAPP (Distemper Adenovirus Parvo Parainfluenza) and Bordetella, but not Leptospirosis (the "L" sometimes included in DALPP in the US) nor Canine Influenza (a relatively new vaccination given in the US). I was relieved that Yi shares my perspective that dogs in both the US and China receive excessive vaccinations while pet owners (and some veterinarians) place insufficient importance on resolving readily discernible disease, such as obesity and periodontal disease.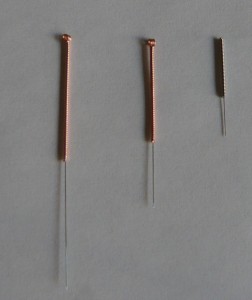 I was surprised to hear that traditional Chinese veterinary medicine (TCVM) is not more widely practiced in the land from which it originated. Yi reported that acupuncture and herbs are most commonly used to treat back pain associated with intervertebral disc disease (IVDD). Additionally, some of the multimodal pain management techniques I routinely employ, like injectable chondroprotectants ("joint supplements", such as
Novartis Adequan
) and anti-inflammatory doses of Omega 3 Fatty Acids (fish oil) are not yet commonly used by Chinese veterinarians. Another remarkable Chinese-American difference is the apparent absence of whole food options available to pet owners besides commercially available dry or canned foods. In 2007, an
international pet food crisis
occurred where many dogs and cats suffered kidney failure and even death after consuming melamine contaminated foods (baby formula was also affected) produced in China. This incident prompted US pet owners to finally become more discerning as to the nutritive value of the ingredients entering the commercial foods so faithfully fed to companion animals. I hold the perspective that if I won't eat a particular food myself, then it is not good enough for my dog or patients (see video
Dog Trainer Eats Dog Food for Nitro's Law: Day 12, Veterinarian Eats Dog Food!
featuring
Nikki Moustaki
and me chowing on
Lucky Dog Cuisine
). In the future, I hope to motivate Chinese pet owners to feed whole food based diets rich in bioavailable nutrients. My tour of BMAAH concluded with the amusing sight of a jovial Pekingese displaying a coat color and pattern more commonly associated with a feline counterpart. Yes, this dog looked just like a Mini-Me version of Tony the Tiger and was very willing to show off his unique look. [youtube]
http://www.youtube.com/watch?v=CwTQhLUUkuk[/youtube
] Please feel free to leave your comments or communicate with me through email (
patrick@patrickmahaney.com
) or Twitter (
@PatrickMahaney
). Thank you for reading my article. To receive my next veterinary posting via email, please press the "Don't Miss a Blog Post" button on the right upper corner of this page or follow
this link
. Make sure to follow my adventures in veterinary medicine by friending
Patrick Mahaney: Veterinarian Acupuncture Pain Management for Your Pets
on Facebook. Copyright of this article (2011) is owned by
Dr. Patrick Mahaney
, Veterinarian and Certified Veterinary Acupuncturist. Republishing any portion of this article must first be authorized by Dr. Patrick Mahaney. Requests for republishing must be approved by Dr. Patrick Mahaney and received in written format.