By plane, car, or paw, I was determined to have a fun and healthy Thanksgiving holiday. With each passing pant, I got closer to the anniversary of my third IMHA occurrence. It was early December 2009 that my health took a turn for the worse and I started my long road to recovery (see Thanksgiving 2010- I Am So Thankful for the Health of My Dog).
Our annual Thanksgiving journey from California to Delaware is a hectic, transport jumble of planes, trains (actually, airport trams), and automobiles. My dads and I flew from Los Angeles to Washington, DC, then made an excruciating "beltway" traffic laden drive up to my aunt Michelle's home in Delaware. Michelle just adopted a super cute puppy, Riley, who is still learning the ropes when it comes to house training. Michelle's other dog, Spencer, and I did our best contribute to her proper pee and poop deposition.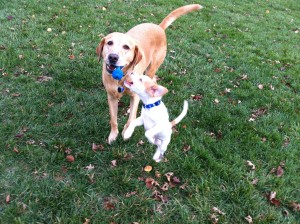 Riley, Spencer, and I got to get outside for some unconstrained dog activity at an amazing dog park, which included water ponds, vast fields, and an inordinate number of large, pure bred dogs (more so than I typically come across at Los Angeles' urban parks). Unfortunately, our good time was abruptly halted when Spencer's head collided with my dad's nose (see Human and Pet Hazards at the Dog Park) and we had to rush off to a nearby urgent care facility.
Spencer and I are best buds, even though we only see each once yearly for Thanksgiving. My terrier spirit allows me to keep up with his size advantage in this lengthy game of 'tug of war'. Who do you think will win the battle (you have to watch until the end)?
[youtube]http://www.youtube.com/watch?v=3s65S1lOT5M[/youtube]
I also got to hang out with my cool Cockapoo cousin Zoe. She's a Jersey girl, but her occasionally crazy canine behavior pales in comparison to more notorious New Jersey natives. After a busy day of Thanksgiving socializing and going to see our parents run the 32nd Annual PNC Bank Thanksgiving Day Run/Walk for MS (my dad raised $200), Zoe and I crashed.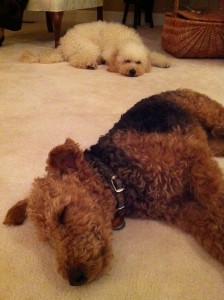 This year, our parents were determined to get a canine family portrait. We adult dogs cooperated by staying still, but Riley's puppyhood overrode her ability to sit still and she appears as a white and brown blur.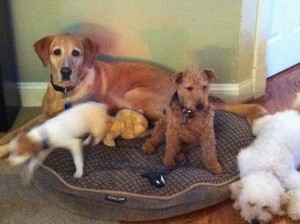 After our action packed family gathering in Delaware, we headed back down to DC for a few days of quiet time, sight seeing, and get togethers with my dads' friends and coworkers. We stayed just across the Potomac River from DC, in Arlington, VA, which had an amazing view of the Pentagon and the new (to us) Air Force memorial.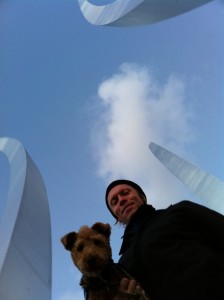 Besides my new canine cousin Riley, I made a great new friend in Boomer. As we both are cut from the same terrier cloth (Boomer is a Wire Fox Terrier), we got along famously and compared notes of our preference for kitties and squeaky toys.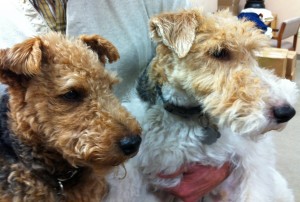 On our last day, we stopped by the White House so I could visit my canine buddy, Bo Obama, but the gates were closed and the Secret Service claimed my paw pad scan didn't verify my identity as an official guest. So, I hope Bo (or his press agent) will see my photo and invite me for a play date next year.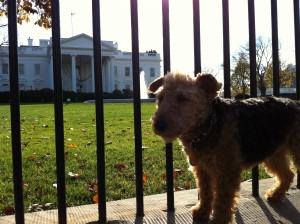 Goodbye east coast. See you in August when we visit Massachusetts.