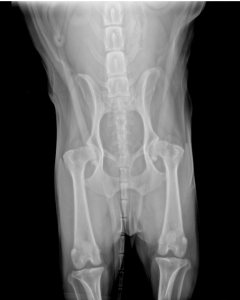 Canine hip dysplasia and osteoarthritis One of the most common diagnoses that creates great cause for alarm among many pet owners is hip dysplasia.
Fortunately, having your dog or cat diagnosed with the condition does not mean a death sentence. Instead, owners of hip dysplasia-affected pets should consider the option for surgical correction and must implement a series of lifestyle modifications in attempt to reduce stress on the hips that inevitably causes joint surface damage, pain, compromised mobility, and other health issues that negatively affect overall quality of life.
Related Articles
Dr. Patrick Mahaney
Please leave your constructive perspective in the below Comments section and communicate with me and follow my adventures in veterinary medicine and life via Instagram (
@PatrickMahaney
), Twitter (
@PatrickMahaney
), and Facebook (
Patrick Mahaney: Veterinarian Acupuncture Pain Management for Your Pets
).
Copyright of this article (2018) is owned by Dr. Patrick Mahaney, Veterinarian, Certified Veterinary Acupuncturist and Certified Veterinary Journalist. Republishing any portion of this article must first be authorized by Dr. Patrick Mahaney. Requests for republishing must be approved by Dr. Patrick Mahaney and received in written format.