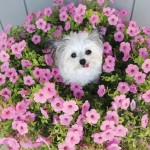 Recently, my most-famous patient, Norbert the dog, was featured in Animal Wellness magazine. Norbert has amassed a few hundred thousand follewers on social media. His human owner, Julie Freyermuth, graciously mentions me in the article indicating that Norbert is now under my care since they've moved to Los Angeles.
Check out Norbert's profile here: http://animalwellnessmagazine.com/norbert-tiny-dog-big-heart/
Thank you for reading this article.  Your questions and comments are completely welcome.
Please feel free to communicate with me through Twitter (@PatrickMahaney) and follow my adventures in veterinary medicine by liking Patrick Mahaney: Veterinarian Acupuncture Pain Management for Your Pets on Facebook. Copyright of this article (2016) is owned by Dr Patrick Mahaney, Veterinarian and Certified Veterinary Acupuncturist. Republishing any portion of this article must first be authorized by Dr Patrick Mahaney. Requests for republishing must be approved by Dr Patrick Mahaney and received in written format.