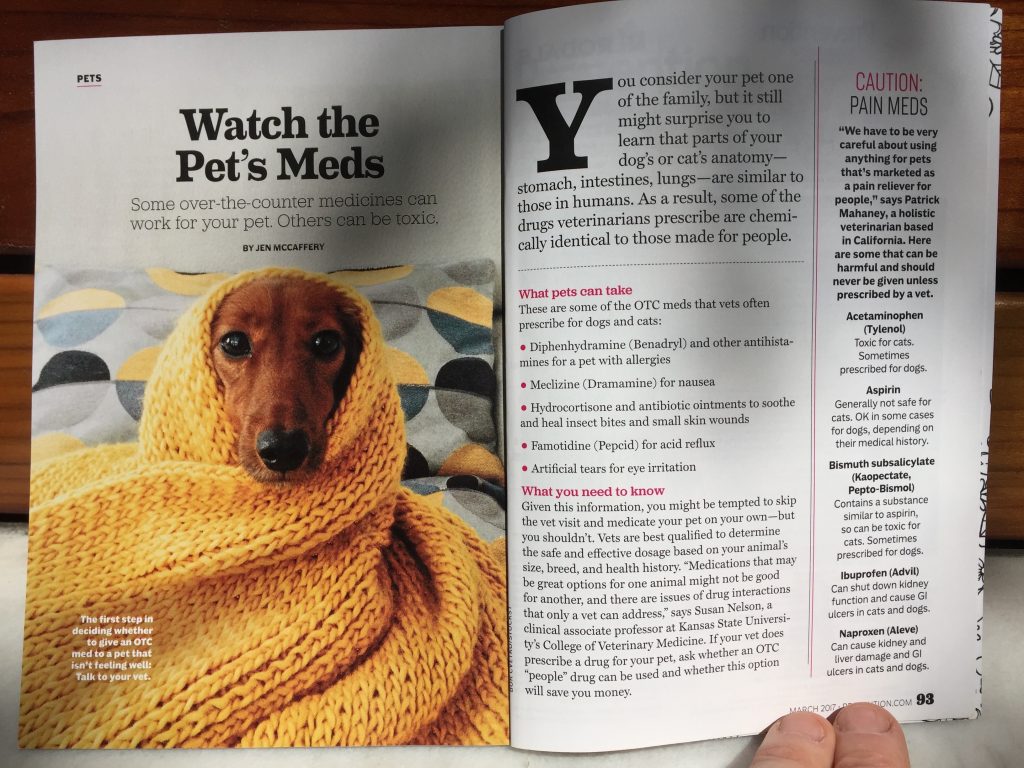 Are you aware that your pet may take some of the same medications that we humans take?   Antibiotics, pain-numbing drugs, antihistmaines, and more that are generally prescribed by doctors for people may also be used in pets.  
There are also some over-the-counter (OTC) medications that pets can take.  OTC medications are available without a prescription, so they can be used without appropriate guidance by a veterinarian.  I always recommend owners consult with their veterinarian and use both OTC and prescription medications under the veterinarians' guidance to ensure that safe and appropriate dosing occurs.  What may work for you may not have the same beneficial effects on your pet and can actually be toxic.
Learn more via my contributions this article for Prevention Magazine: 5 OTC Meds Your Pet Can Take—And 5 That Can Be Toxic
Dr. Patrick Mahaney
Thank you for reading this article. Your questions and comments are completely welcome.
Please feel free to communicate with me through Twitter (@PatrickMahaney) and follow my adventures in veterinary medicine by liking Patrick Mahaney: Veterinarian Acupuncture Pain Management for Your Pets on Facebook.
Copyright of this article (2017) is owned by Dr Patrick Mahaney, Veterinarian and Certified Veterinary Acupuncturist. Republishing any portion of this article must first be authorized by Dr Patrick Mahaney. Requests for republishing must be approved by Dr Patrick Mahaney and received in written format.