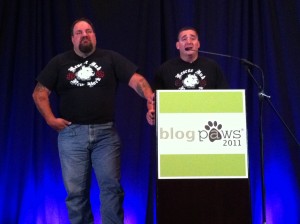 Despite Hurricane Irene's impending onslaught on the Eastern seaboard, I gathered my business cards and made for Tysons Corner, VA to attend
BlogPaws 2011
.  For those of you unfamiliar with Blog Paws, this premiere event creates a collective community of the top participants in the pet media and animal rescue worlds. Having lost my Blog Paws virginity in 2010 (Denver, CO), I eagerly anticipated 2011's event. Here are my highlights from this awesome, animal-centric convention.
Networking with Fellow Pet Writers and Media Insiders
Attending Blog Paws' informative lectures, then becoming personally and professionally acquainted to the esteemed speakers presented an invaluable opportunity to broaden my industry connections. With some persistence and relevant content contribution, I hope to broaden my reach with audiences (
The Soccer Mom Myth
,
BlogHer
,
Embrace Pet Insurance
,
PetFinder
,
VetLive
, etc) I otherwise had not pursued readership.
Amazon CARES Reunion
In April 2011, I participated in my first international veterinary volunteer project.  The inception of this plan occurred at Blog Paws 2010 when I met
Amazon CARES
president, Molly Mednikow. A few months after our meeting and many hours later of personal health preparation and fundraising, I was en route to Peru to provide veterinary services to communities otherwise having no pet medical care.  I quickly witnessed the sharp contrast between the harsh lives of Peruvian dogs and cats in comparison to the privileged pets I treat as a house call integrative veterinarian in Los Angeles. My Amazon CARES adventure motivated me to write a daily blog (see "
Vets Abroad
" section of
Patrick's Blog
) and create a
pitch
and reel (final touches are being done) for an international veterinary volunteer documentary style reality TV show.   If you have any connection to a network (Animal Planet, OWN, Nat Geo, Travel Channel, etc), that would be interested in partaking in this educational and entertaining pet project, please help me make such a connection.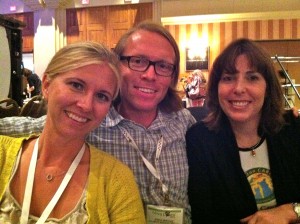 Having not seen my Amazon CARES buddies since our departure day out of Iquitos and Lima, it was great to reunite with Molly and Dr Jessica Vogelsang (Dr V of
Pawcurious
).  I look forward to returning to Peru with Molly, Jessica, and other volunteers with the ability to showcase the myriad of animal and human public health issues through a television show and other media projects.
Premiere of Disney's Spooky Buddies
Blog Paws 2011 showcased the premiere of Spooky Buddies, Disney's latest family friendly, canine-centric cinematic offering.  Post-screening, we were treated to an informative Q & A session with Spooky Buddies' director, writer, and producer, Robert Vance which was moderated by Disney's PR guru, Vivian Mayer (Mayer & Associates).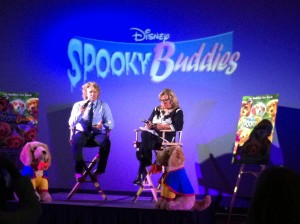 My question was prompted by a potty humor filled scene where a Golden Retriever puppy protagonist deflected the supernatural powers of the evil antagonist Mastiff with a digitally enhanced flatulent episode (yes, a fart).  Being the medical professional I am, I inquired if any similar canine health abnormalities occurred on set.  Fortunately for the canine and human actors, Vance's answer was "no". My palate was cleansed when I got to meet one of the Spooky Buddies puppies and saw a firsthand demonstration of their disciplinary process from Disney's dog trainer, Dave Sousa.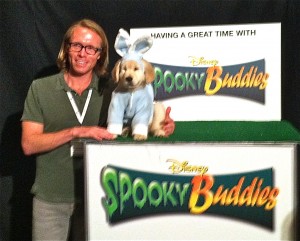 Rescue Ink Interview for I Love Dogs
As my Welsh Terrier,
Cardiff
, is a canine ambassador to and daily consumer of
i Love Dogs (iLD)
premium canine supplements, iLD and I often collaborate on media projects.  For Blog Paws 2011, iLD put me on assignment to interview two tough guys with a heart of gold,  Bigg Ant and Joe Panz from
Rescue Ink
. Having briefly met the Rescue Ink guys at Westminster 2011, it was great to sit down with them to get a first hand perspective of their obvious passion for helping pets and people.  The video will soon be published on the i Love Dogs, Inc website (I will follow up by posting the final project), but here is a teaser photo.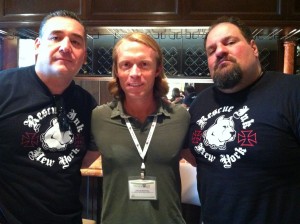 Both BlogPaws 2010 and 2011 have presented innumerable opportunities to further any motivated pet writer's media presence.  I now look forward to BP 2012, where I plan on participating as a lecturer with the evolving vet track topic of "How to Establish and Grow Your Media Presence to Promote Your Veterinary Business". I was so busy networking with other writers, pet philanthropic organizations, and entertainment industry insiders that I did not leave the hotel until the morning of my departure.  Fortunately, I published "
Hurricane Irene Prompts Increased Awareness of Pet Emergency Preparedness
" hours before my Los Angeles bound flight in attempt to help other pet owners ready their animal and human family members for both current and future natural disasters. Please feel free to communicate with me through email (
patrick@patrickmahaney.com
) or Twitter (
@PatrickMahaney
). Follow my adventures in veterinary medicine by friending
Patrick Mahaney: Veterinarian Acupuncture Pain Management for Your Pets
on Facebook. Thank you for reading my article. To receive my next article via email, please press the "Don't Miss a Blog Post" button on the right upper corner of this page or follow
this link
. Copyright of this article (2011) is owned by Dr. Patrick Mahaney, Veterinarian and Certified Veterinary Acupuncturist. Republishing any portion of this article must first be authorized by Dr. Patrick Mahaney. Requests for republishing must be approved by Dr. Patrick Mahaney and received in written format.