My dad went to BlogPaws West 2010 and made a great business connection with Cesar foods (no, not Cesar Millan, who my dad did meet randomly at the St Regis in Aspen, CO). As a reward for tweeting about how much he loves me to @CesarCuisine, Cesar sent my dad cases of their Bistro and Temptations line of food and treats.
I greatly appreciate the donation of Cesar products, but I eat a home prepared diet specially tailored with appropriate foods having energetic qualities that help keep my Immune Mediated Hemolytic Anemia under control. If only my dad would let me taste some of the Cesar food, as it sure looks lip smacking good!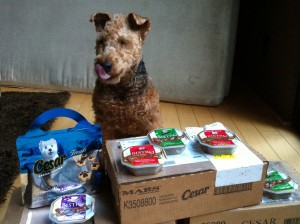 As I couldn't let such a generous offering go to waste, I decided to donate all the Cesar goods to the DELTA Rescue. Many lucky dogs, cats, horses, and other animals have been given a second chance at life by the DELTA Rescue. As my dad does acupuncture on dogs and horses at DELTA, he gladly to transported the Cesar Bistro meals and Temptations treats to DELTA.
I hope the DELTA Rescue dogs enjoy the yummy Cesar foods! As I have been rescued from the brink of death three times as a result of my IMHA, I am happy to give back to other pets in need through food donation and awareness campaigns with my blog.
Thank you for reading my latest dog blog post. To receive an email with my next blog post (or my dad's veterinary blog), please press the "Don't Miss a Blog Post" button on our webpage or follow this link.
Cardiff