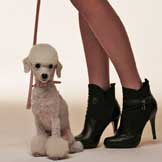 This article originally appeared on Dr. Mahaney's The Daily Vet column on PetMD as
$14,000 Dog Dress Brings Attention to Animal Rescue
Once again, I've journeyed from California to frigid (and snowy) New York City for the
Westminster Kennel Club's 137th Annual All Breed Dog Show
. As a warm-up to the intense canine competition, I attended the less cut-throat yet no less fabulous
New York Pet Fashion Show
(NYPFS) at the legendary Hotel Pennsylvania (lodging site for many Westminster competitors). Having previously covered this event for petMD (see:
Live from New York — The Westminster Dog Show
), I was enthused to be invited back to observe some fabulous canine and human couture and to learn of the assortment of novel pet products. Presented by TropiClean and produced by Oehler Media Productions (publisher of
Cesar's Way
magazine), the show fused fashion and philanthropy to benefit animal welfare by supporting
Animal Haven Shelter of NYC
. Maria Milito, animal advocate and Q104.3 radio personality, MC'd the show to keep the models hitting their marks and posing for clusters of eager camera lenses. A bevy of large to small, thick to thin, and minimally to extravagantly adorned humans and canines strutted their stuff on the runway. Some model pairs walked with the human in tow and featured the canine in the lead (to get the best access to the photographers, of course). The models were decked out in Roaring Twenties outfits and included my dog trainer pal,
Nikki Moustaki
(award winning writer and founder of the
Pet Postcard Project
) and her canine companion Pearl. Moustaki and Pearl represented
Troff Pouch
, which was the "Official Hydration Sponsor of the 2013 NYPFS." Troff is an amazing product that strives to promote the best health and well-being of all pets through providing owner-determined and safe hydration. Other well-known models included:
Lassie, the world famous Collie, who is celebrating the 75th anniversary of the Lassie series of television, film, and book projects
Shanna Olson, Ms. California 2013
Richard Pryor Jr., actor and son of comedian Richard Pryor
Justin Silver of CBS's Dogs in the City
Nency Escamilla, Ms. New York 2011
Harrison Forbes, celebrity pet expert
This year, the show had the somewhat dubious distinction of featuring
The Most Expensive Gala Dog Dress Ever Made
. The dress is formally titled the Centauras, reportedly costs $14,000, and was created by designer
Kiki Hamann
. It's a "one of a kind couture gown emblazoned with black diamond Swarovski crystals over four layers of Valentino Shantung, Gazar, Peau de Soie, and Organza textured silks in midnight black, lined in four layers of obsidian Tulle, heavily beaded, completely hand-stitched, and finished with touches of Organza flowers." Learning of such an extravagant item made me consider the value these shows have in promoting the cause of animal welfare. Fortunately, many rescue pets are helped by the funds generated for the Animal Haven Shelter of NYC. Yet the thought of someone purchasing a $14,000 dog dress makes me cringe, as there are so many animals (and humans) in our world that could benefit from that dollar amount being put toward medical care, nutrition, and shelter. On a positive note, the media attention focused on the Centauras likely increased the general public's awareness of the ongoing needs of animal welfare organizations, like the Animal Haven Shelter of NYC. Additionally, two of the rescue's dogs took to the runway in search of their forever homes after having undergone a complete makeover, thanks to the styling skills of groomer Jorge Bendersky. Up next is an intense two days attending the world's premiere canine contest, which strives to choose the best example of a particular breed. I will be hunting for a variety of pet interest stories and will be updating the dog loving world with posts on
@Patrick Mahaney
Twitter and
Patrick Mahaney, Veterinarian: Acupuncture Pain Management for Your Pets
. Check back soon to see my wrap-up of the 2013 show. I wasn't so keen about 2012's winner, the Pekingese, as you'll see from my petMD article from then,
What's Breed Got to Do With It?
What did you think about the choice of last year's canine champion? Who are you pulling for this year?
Dr. Patrick Mahaney Thank you for reading this article. Your questions and comments are completely welcome (I'll respond). Please feel free to communicate with me through Twitter (
@PatrickMahaney
) and follow my adventures in veterinary medicine by liking
Patrick Mahaney: Veterinarian Acupuncture Pain Management for Your Pets
on Facebook. Copyright of this article (2013) is owned by Dr Patrick Mahaney, Veterinarian and Certified Veterinary Acupuncturist. Republishing any portion of this article must first be authorized by Dr Patrick Mahaney. Requests for republishing must be approved by Dr Patrick Mahaney and received in written format.