I love my toys. Such a simple statement, yet it everyday of my 6 years of life I have played with my toys. Toys are fun. Toys make me happy. My dads give me new toys all the time, often as an experiment to see what I will like best.

So far, the toy that tends to reign supreme is my "Mr Martian" squeaky, which I'll call MM for short. MM is resilient, bouncy, and makes a high pitched squealing sound reminiscent of my fantasy of crushing woodland animals in my powerful terrier jaws.
Check out this YouTube video (Cardiff on 'Roids) of me ravaging MM while on Prednisone during my Immune Mediated Hemolytic Anemia (IMHA) treatment.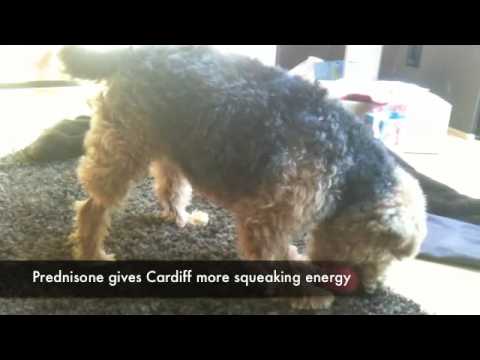 Over time, my toys become less interesting to me, so my dads recycle them. That is, my toys are placed in a location away from access to my paws or mouth. When the time is right, such as when a guest comes to our house, I then bring out a sampling of my toy options, with which I enthusiastically play.
Yet, all good things must come to an end when my toy basket appears cluttered. So, I, Cardiff the Welsh Terrier, must be willing to part with some of my toys. In my mind, this is to make room for new and interesting models. My dads main intent it so clear out their closets.
I am donating some of my toys to the DELTA Rescue, where my dad provides acupuncture to dogs and horses that have been given a second chance at life.
I hope the DELTA. Rescue animals enjoy my toys. As I have been rescued from the brink of death three times as a result of my IMHA, I am happy to give back to other pets in need through toy donation and awareness campaigns with my blog.
For email delivery of Cardiff's blog, or my dad's veterinary blog, please click here.
Please support DELTA Rescue by making a donation to help fund food, housing, and medical care for animals in need by following this link.
Thank you,

Cardiff